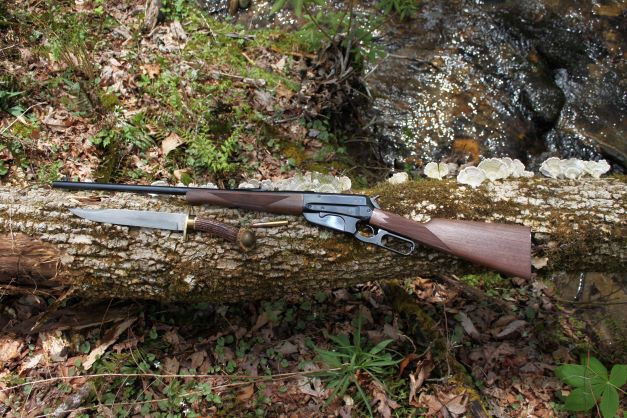 By Jim Dickson | Contributor
When I picked up the M1895 at Reeves Ace Hardware in Clayton, Georgia that Winchester had sent me for review it was immediately obvious why this was one of Teddy Roosevelt's favorite rifles.
It handled like a dream, the action was as slick as glass, and it fired perhaps the best all round North American big game cartridge ever made, the famed .405 Winchester, able to launch a 300-grain bullet at 2,200 fps; a gun and caliber well proven in Alaska on brown bear in the alders yet not too much power or recoil for white tail deer.
A big bullet like this has a significant advantage over lesser deer calibers. It puts a damper on the white tailed deer's famed 100-yard death dash after a perfect shot through the heart and lungs. That can be a very big deal because another hunter may put a shot in it and claim it during that run and there are places where you can lose a deer no matter how good a tracker you are.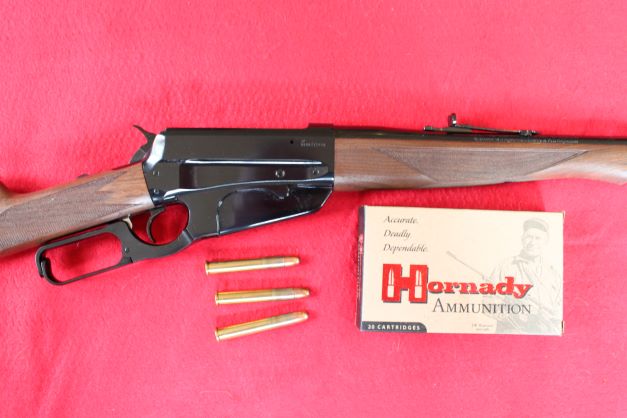 Of late some people have been pushing the .45-70 with 300-grain bullets toward this velocity but you get better sectional density with the .405 and that translates into better penetration and velocity retention as ranges increase.
The rifle weighed right at 8 pounds 3 ounces on my commercial grocery scale and the steel tape measured 42 ½ inches overall with a 24-inch barrel. Fit and finish is flawless. The black bluing job is over what I would estimate to be a 500 grit polish which is just shy of a true mirror polish. The stock is nicely checkered and has a proper dull finish for hunting. There is a blued steel buttplate.
Like the originals it has a slim buttplate profile instead of the wide military buttplate that I like. A wide buttplate does more to negate recoil than the commercial recoil pads ever have. Sights are the traditional buckhorn rear sight and small bead front sight. Personally, I would prefer a 1/8-inch aperture peep sight at the same location on the barrel for use with both eyes open and a larger front bead for better visibility at dawn and dusk when game is most active. Trigger pull is flawless and light at 2½ pounds enabling precision shooting.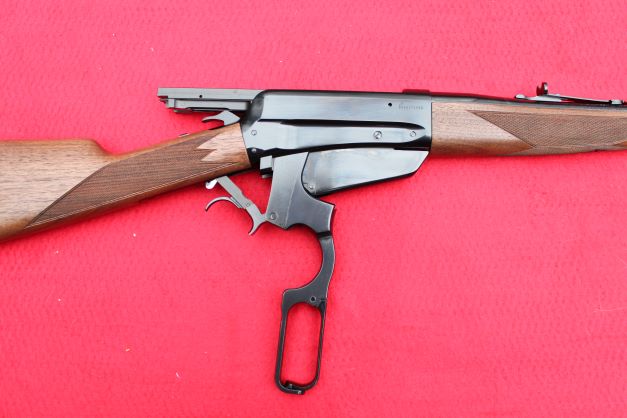 The single column magazine holds four rounds and you can up that to five by also loading one in the chamber.
The only modern changes are the addition of a tang safety and a rebounding hammer, which also takes the place of the old half cock safety. I think the rebounding hammer is all the safety this gun needs and the tang safety is overkill to satisfy Winchester's product liability lawyers. Neither I nor the generations of hunters using the half cock notch as the only safety on previous lever action rifles ever found this system wanting in any respect.
The gun balances flawlessly and aligns on target effortlessly. The value of liveliness in a gun cannot be overrated. It often means the difference between game in the bag and the one that got away. On dangerous game it is a life-and-death matter and you must remember that this gun, in this caliber, has been a favorite grizzly stopper for well over a hundred years.
Winchester was unable to provide me any ammunition but Hornady came through with a box of 20 rounds. I would have loved to fire 20,000 rounds through this beauty if I only could. This is one gun I really hated to return to the maker at the end of the review.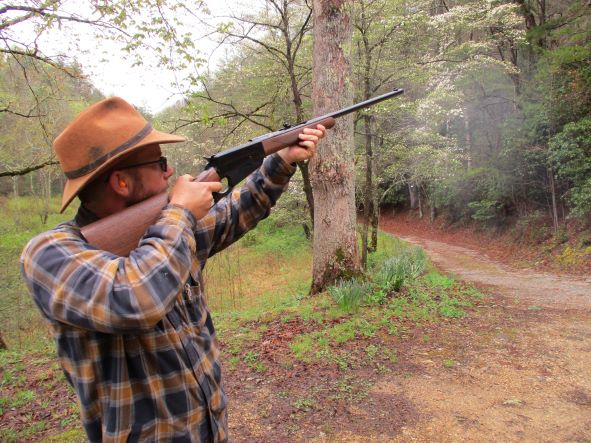 The Model 1895 was fun to shoot and the recoil was negligible. I was more aware of muzzle jump than kick. Anyone could shoot this rifle. You can get 2- and 3-inch groups at 100 yards shooting offhand just as you would when hunting. That's all you need and more from a hunting rifle. While I am a good long range shot and have paid my dues at successful 1,000-yard shooting I do not believe in shooting game at over 200 yards. There are just too many things that can go wrong after the bullet leaves the muzzle to take a chance on wounding game. The more you shoot at extreme ranges the more aware you become of how many things can go wrong as the distance increases.
One of the complaints about the early Winchester lever rifles was the fact that the inner workings were not readily accessible for cleaning. John Browning addressed that problem in the M1894 and M1895 Winchesters by moving the mechanism out of the gun when the lever is worked. This resulted in both guns seeing some success as military weapons. Russia bought 294,000 in 7.62X54R while the U.S. Bought 10,000 in .30-40 Krag.
While the .405 Winchester cartridge is perfectly balanced for North American big game it also saw a lot of use in Africa as a meat getter. For shooting plains game to feed the safari it is a splendid round. However, it is not quite enough for the dangerous game though. Famous white hunter Charles Cottar found this out the hard way when his beloved .405 Winchester failed to stop a charging rhino before it got to him. Mortally wounded, the two adversaries died glaring at each other. His daughter always said that he would have been all right if only he had been carrying his .470 double rifle.
Originally from the Old West, Cottar had hung on doggedly to his lever rifle preferring to carry it when he should have been carrying the heavy double rifle and only taking the .405 from a gun bearer when wanting to shoot plains game.
Other famous African users were Theodore Roosevelt and the team of Martin and Osa Johnson. The rifle was popular enough in its day that some beautiful double rifles were made for the .405 Winchester cartridge. I remember one that I had to pass up for lack of funds. They aren't cheap anymore. The .405 Winchester is a wonderful double rifle caliber for all North American game from deer on up.
For someone taking a plains game safari, the M1895 Winchester is still a fine choice for this purpose. If you plan to hunt dangerous game, you should move up to a bigger gun. It has always been common to carry a smaller caliber for plains game shooting in addition to a powerful double rifle for dangerous animals.
A rifle for plains game is normally lighter with less recoil.
At $1,370 MSRP, the .405-caliber M1895 Winchester is a lot of fine quality gun for the money. I can highly recommend it for everything from deer to grizzly bears. For those hunting wild hog it could be especially important as I know of at least two hogs that weighed in at over 1,000 pounds. That's no place for a .223. I feel strongly that the .405 Winchester is one of the best calibers ever devised for North American game and I firmly believe that it should be one of our most popular calibers, right up there with the .30-30 Winchester and the .308 Winchester. Unfortunately style and fashion outweigh performance for most folks so the best cartridges often fall by the wayside. The .405 Winchester is too good a round to let that happen to it.