By Michael A. Black | Contributing Editor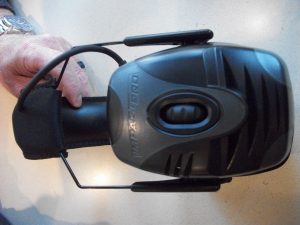 Often times we emphasize the importance of spending time on the range, as well we should, but we should also be conscientious about auxiliary equipment that can safeguard our precious senses of sight and hearing.
You only get one pair of eyes and ears, so take care of them. I was fortunate enough to be given some new products along these lines to test recently and was able to put them through their paces.
In the area of eye protection the Genesis Uivex Hydroshield safety glasses from Honeywell Safety Products offers some unique features for under $20.00. Honeywell is located in Rhode Island and notes that the Univex glasses are ideal for shooting sports, hunting, bow hunting, target practice, and gun maintenance, which is often an overlooked hazard. Remember, the last thing you want is to have your gun cleaning activity interrupted by some errant cleaning fluid getting in your eyes.
The glasses fit snugly on the face, and offer extensive, wrap-around protection to prevent unwanted contamination or injury. They also have a soft brow guard, a nosepiece protector, and an adjustable ratcheting frame that allows the wearer to make minor adjustments for comfort. The scratch resistant, wrap-around lenses offer the standard ballistic protection and are equipped with a special anti-fogging coating which makes them ideal for going from a cold environment into a warmer one, or vice versa. This feature makes them ideal for an entry team usage as well as the range.
Anyone who has worked in an area of season changes knows the perils of making a fast entry into a warm building from a colder environment during the winter time. Normal lenses fog up preventing the wearer from seeing as clearly as he or she should. These glasses will not fog up, allowing for crystal clear vision at all times. The frame also is thin enough not to interfere with ear protector muffs.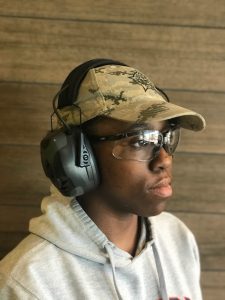 On the subject of ear protection, another Howard Leight product from the Honeywell Company I tested was the Impact Pro Shooter's Electronic Ear Protectors.
These electronic ear muffs are listed at $80.00.
The purpose of an electronic ear muff is to protect the ears by blocking out sounds in the harmful decibel range. The sudden impact noise of a firearm report can range from 130 to 150 decibels, which over time can damage your ears and rob you of one of your most precious gifts, your hearing. With the proper protection, this firearm impulse noise can be substantially reduced and blocked.
The Impact Pro is ideal for range instructors and those training on the firing line as well and has a NRR (Noise Reduction Rating) of 30. The external microphones on the earmuffs amplify ambient sounds such as voices, machines, and wildlife noises, while also providing excellent hearing protection by blocking sudden, high-decibel impulse noise intrusion, such as a gunshot. The stereo microphones also allow directional detection of these ambient sounds, which enhances communication and awareness of the environment. There is also an electrical audio jack input for hooking up to your police radio, scanner, cell phone, or even an MP3 player.
The system runs on two AAA batteries which can be easily replaced in the left ear muff. The right muff has an on/off switch which also acts as a volume control knob for both sides, and the specially designed external microphone eliminates irritating wind noise when outdoors. The headband is adjustable and can be cleaned with warm water. Precautions should be taken not to immerse the muffs in water, however.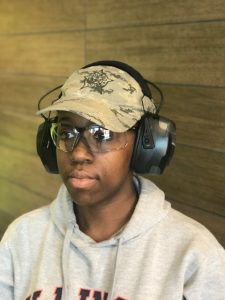 The Impact Pro also has an automatic 4-hour shut off feature, in case the user forgets to turn the microphone off. Comfort is always a factor on those long days on the range or out in the field hunting. The muffs have soft, smooth, rubberized material that doesn't irritate or scratch the skin, and provides a good seal over the ears.
The top portion of the headset is also covered with this same padding making the headset as comfortable as wearing a hat. Our field test proved efficient and reliable during our field testing procedure. As previously stated, one should never skimp on quality ear and eye protection in regards to shooting. Remember, you only get one pair of each, and they have to last you a lifetime.
For more information on both of the above products go to www.HowardLeightShootingSports.com, or contact Honeywell Safety Products at 800-682-0833.