by Dave Workman | Senior Editor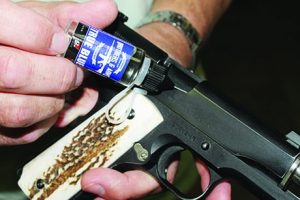 Once in a while along comes a new product that grabs one's attention and that much can be said about True Blue Gun Oil from Dumonde Tech, a company based in Washington State.
This stuff is rather interesting because it is actually an offshoot of an oil designed for bicycles and other machines and equipment. Dumonde Tech produces racing oils for motorcycles and bicycles, and True Blue gun oil might be a pleasant "accident."
We tried it out and it works. There is an oil and a very light grease. Both lubricate slide rails, trigger mechanisms and other moving parts of firearms. Samples provided to TGM included a half-ounce bottle with a needle type lid, a larger two-ounce bottle with a nozzle-type lid and a one-ounce tub of grease.
The oil and grease both slick things up.
What got our attention was that these lubricants have quite a pedigree. Anything that can handle the heat and wear, and viscosity requirements of a motorcycle chain lubricant will provide reliable lubrication for a firearm. Ditto for other Dumonde Tech lubricants, including engine oils for motors that turn up to 20,000 rpm.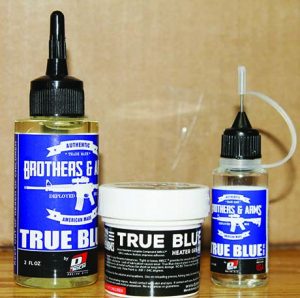 We had to test this stuff out for a month before writing about it. We tried it on semi-auto pistols, with steel, aluminum or polymer lower frames. True Blue worked on all of them. The needle spout on the smallest of the bottles really gets into tiny places, including down into the action of a sixgun.
A little of this stuff goes a long way. The smaller half-ounce bottle is just what one might toss into his/her cleaning kit to take along to the range, a gun class or on a hunting trip.
After shooting with True Blue, it lives up to advertising claims that it does not build up or get sticky so that it might inhibit functioning of a firearm.
One good thing we discovered about True Blue is that it does not have an odor. Unlike other gun oils that carry a scent, this lubricant doesn't smell like oil.
We discovered that True Blue can even lube up a reloading press, which came as a pleasant surprise! We've got two presses on the bench, a single-stage and a progressive, and they both need lubrication now and then.
True Blue doesn't just lubricate, it sheds water with the best of them, and also prevents corrosion.
For information, visit dumontetech.com