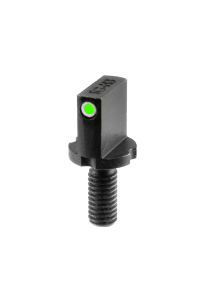 Owners of modern semi-auto sporting rifles use open sights for competition, hunting and home defense or predator control, often in low-light conditions.
TRUGLO has just announced the new Tritium Front Sight Post, available for AR- and AK-platform rifles, including AR-15 rifles with the A2-style front sights and AK-series rifles with standard front sight assemblies.
According to the TRUGLO announcement, the AK sight post includes a new windage drum for "maximum compatibility."
Both sight models come with a combination installation and adjustment tool to restore zero once the sight has been swapped out.
These new sights are built on a CNC-machined steel housing protected by a nitride Fortress Finish. They are machined and assembled in the U.S. with Swiss tritium in a capsule that provides a consistent and constant light source. They are covered by a 12-year warranty.
They carry an MSRP of $58.99 for the AR-15 model and $70.99 for the AK model.