Review by | Joseph P. Tartaro | Executive Editor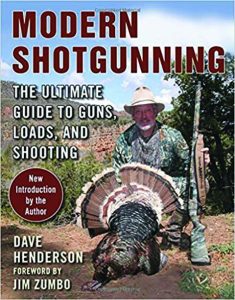 MODERN SHOTGUNNING, by Dave Henderson, with a Forward by Jim Zumbo. ©2011, 2017. Paperback published by Skyhorse Publishing, New York, NY. Oversize paperback, 160 pages, full color illustrations. MSRP $19.99, somewhat less at online booksellers.
I had the good fortune to hunt for Canada geese in Western New York with Dave Henderson, the author of Modern Shotgunning several years ago. I remember that the two of us shared a cold pit blind one frigid January day when the birds were simply not flying. Apparently, when the winter weather is bad enough, even geese know enough to stay out of the wind.
Since the Canadas were not cooperating, Dave and I spent a lot of time talking about a variety of subjects of mutual interest, and I found him a very knowledgeable outdoor writer. He was the outdoor columnist for the Binghamton, NY, Press, in those days. If I had known then that among his talents was an uncommon wealth of practical knowledge about shotguns, shotgun ammunition and shotgun reloading, I could have availed myself of a lot of useful information.
Henderson had not yet written his first version of Modern Shotgunning when we shared the goose blind, but this year he has put together a revised paperback version, which his publisher sent in time for our annual Hunting Edition.
No matter how much you think you may know about shotguns and shotgun hunting in particular, you'll be surprised how much you didn't know before you picked up a copy of this book. It is loaded with information about working shotguns, not fancy estate-type scatterguns. It starts with a chapter discussing the different types of shotgun actions as a guide to what is most useful for your needs, and then discusses barrels, chokes, fitting the gun to the shooter, recoil and reaction, optics and ammunition, including the transition still in progress from lead to steel to synthetic shot, buckshot and especially the newer development of modern slugs.
Of course, there are chapters on reloading shotshells and differences in high and low brass, as well as a brief discussion of the shotgun shooting games. Of course, Henderson relegates trap, skeet, sporting clays, etc. to the recreational class, for this shotgun book is more for hunters and hunting, whether for wily turkeys, waterfowl, upland game, of even deer-sized animals.
And it's easy reading. Full color illustrations, including a lot of useful how-to tips, show you just how things should be. After all, this is a practical book by a guy who loves guns in general and especially working shotguns, so it is not your usual coffee-table book loaded with pretty four-color "show gun" pictures.
There is a four-age Appendix of product manufacturers and supply sources, including mail, phone and email addresses, and a one-page Index at the end of the book.
If you want to learn more about buying and using working shotguns, Henderson's Modern Shotgunning is the book for you, and represents less than 20 bucks well spent.