By Joseph P. Tartaro | Executive Editor
The fallout from the Dick's Sporting Goods decision to walk away from the gun industry continues.
The Pittsburgh Post-Gazette reported that Dick's is being sued by a vendor claiming the Findlay, PA-based retailer breached its contract in an ammunition agreement.
Nevada-based Battle Born Munitions is seeking to recoup about $5.5 million in damages related to claims of fraudulent inducement and negligent misrepresentation in addition to breach of contract that started in 2016, when Dick's allegedly failed to take delivery and pay for several orders of ammunition branded with Dick's trademarked Field & Stream logo.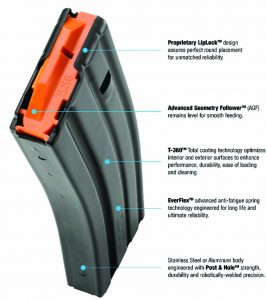 Battle Born said because the ammunition was branded, it could not be resold — forcing the vendor to store the order and incur "substantial costs" until Dick's finally paid, according to the complaint.
Dick's Sporting Goods did not respond to the Post-Gazette's request for comment in time for publication of the new report.
The complaint was filed in October in US District Court for the Western District of Pennsylvania. A judge recently denied a motion by Dick's Sporting Goods to dismiss some of the allegations.
Battle Born claims the delay tied up capital it needed to complete other business deals, including one to sell 12 Bell helicopters to the government of Lebanon, according to the complaint. The company is a registered broker in good standing with the US Department of State International Traffic of Arms Regulation (ITAR), the court documents state.
Dick's Sporting Goods has developed a contentious relationship with the firearms industry. Following the 2018 school massacre in Parkland, FL, the retailer made several changes to its firearms policy, including deciding to pull modern sporting rifles from its 35 specialty Field & Stream locations. The company also said it would no longer sell high capacity magazines or sell firearms to anyone under 21 years old.
Some organizations have cut ties with the company, including The National Shooting Sports Foundation, a trade group, and O.F. Mossberg & Sons, a firearms manufacturer.
The renowned rifle and pistol magazine manufacturer C Products Defense (CPD) has released DURAMAG to the North American consumer market.
C Products Defense developed DURAMAG in its ISO 9001-2015 facility to meet military requirements around the world. Real-world testing on both one- and two-way ranges has proven DURAMAG superior to older designs.
Today's semi-automatic firearms rely on a multitude of mechanical actions to function. Too often a faulty magazine is the root of a firearm's problems. DURAMAG's next-generation technology offers a full suite of features that put it on top of the competition for reliability, strength, and dauntless service.
While metal has always been the superior magazine body material, stagnation in development had pushed many consumers to polymer magazines. Polymer manufacturing ease permitted some improvements as a stop-gap while waiting for a better metal magazine, but has proven sensitive to temperature and humidity. The wait for a better magazine is over.
DURAMAG aluminum magazines are available anodized in a variety of colors
CPD® says it designs magazines to meet the specific demands of each discipline – combat, law enforcement and sport.
Acquisitions
Gary Fadden announced just before the SHOT Show in January that Edge Technologies Engineering LLC has acquired the Al Mar Knife brand and was scheduled to debut new Al Mar products at the company's booth in Las Vegas.
"Rumiko and I are happy to be working with ETE through the transition," Fadden said. "The decision was made after an extensive search for a successor who would continue the four decade tradition of Al Mar's innovation and excellence."
Al Mar's reputation for innovative quality knives, hand-crafted and hand-sharpened by skilled craftsmen has established the brand as a top producer in the knife and tool industry.

John Anthon, president of ETE, is delighted with the opportunity to work with this Iconic brand and Fadden as they build upon the existing product line and update classics.
Fadden has been elevated to Al Mar Chairman Emeritus and was scheduled to attend the SHOT Show and major industry events to help with the passing of the Al Mar "baton". Gary will continue to develop innovative new and exciting products for Al Mar and our industry.
Founded in Portland, OR, in1979, this year is Al Mar's 40th anniversary as one of the most sought after high quality knife makers in the industry.
On Jan. 28, 2019 Bradford, PA-based Zippo Manufacturing Company announced that it has reached a definitive agreement to acquire substantially all of the assets of Northern Lights Enterprises, Inc.
Northern Lights, founded in Wellsville, NY, in 1978, has grown to become a leading designer of luxury candles and artisan-made accessories across the United States.
For Zippo, the acquisition adds a diversified product line, new distribution channels, critical know-how and expertise in a fast-growing, on-trend category to the Zippo family of brands. Northern Lights ranks as a leading candle company in the United States and manufactures candles for its own brands as well as for private label. Northern Lights sells to a diversified group of retailers from small and mid-size boutiques under the Northern Lights brand and to large mass market retailers under a variety of other labels. Northern Lights offers artisan candles both machine-made and hand poured in the USA using fine fragrances and essential oils, with vessels designed to be re-purposed.
The Zippo portfolio already includes W.R. Case & Sons Cutlery Co., manufacturer of handcrafted knives since 1889, and the Ronson family of products for the United States.
This pairing made great sense for Northern Lights founders Andy and Tina Glanzman, as Zippo and Northern Lights share aligned cultures, values, and positions. Both Zippo and Northern Lights are proud American manufacturers located in small, strong communities in the US, with long-standing reputations for dependable and beautifully engineered products.
Zippo will leverage its existing international channels to begin globalizing the Northern Lights brand and product offerings, with the opportunity for additional expansion.
"Northern Lights gives Zippo new capabilities and expertise in candles, and our system can create opportunities to grow the Northern Lights brand worldwide," said Zippo President and CEO Mark Paup. "Northern Lights is a great brand to add to the Zippo family, and we're looking forward to continuing Northern Lights' growth into an even stronger and widely recognized international brand. Northern Lights also gives us access to markets which pair well with Zippo products, and offers new segments and opportunities."
Paup said that Zippo intends to keep Northern Lights' manufacturing operations in its current Wellsville, NY location, with the Glanzmans and all employees remaining with the company.
One of the most recognized brands in the world, Zippo was founded in the fall of 1932 by George G. Blaisdell in Bradford, PA, where it has manufactured over 500 million windproof lighters. With the exception of improvements to the flint wheel and modifications in case finishes, the product remains unchanged and is backed by the company's famous lifetime guarantee.