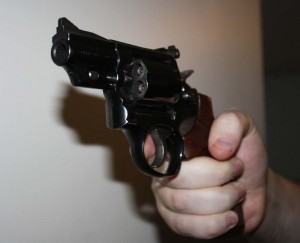 A week-long manhunt for an escaped murder suspect in Mississippi ended dramatically when he was killed by a homeowner who he had taken hostage, along with the homeowner's wife and child, in Vicksburg.
According to Vicksburg Police Capt. Sandra Williams, the suspect, identified as Rafael McCloud, forced his way into the unidentified victim's home and held the family hostage for hours before the man was able to free himself briefly. There was a scuffle, in which McCloud stabbed the man in the shoulder, after which he allowed the wife to leave the room.
She returned with a handgun and shot McCloud once, before cutting her husband's bonds. He then took the pistol and shot McCloud fatally before the couple fled their house and summoned help. When police arrived, they found McCloud dead in a bathtub.
McCloud had been jailed in January on charges of kidnapping, rape and murder in connection with the 2015 slaying of 69-year-old Sharen Wilson. He escaped custody on March 2 after pulling a homemade knife on a jail guard.
Alan Gottlieb, chairman of the Citizens Committee for the Right to Keep and Bear Arms, called the incident a textbook illustration of "the importance of having the will, and the tool, to fight back." He co-authored America Fights Back: Armed Self-Defense in a Violent Age.
"The importance of the right to keep and bear arms is never more decisively demonstrated than in a self-defense case like this," he told TGM. "They used a handgun to defend themselves and their child from a dangerous predator.
Gottlieb noted that the Vicksburg story provides a stark contrast to life in a state with rational gun laws with what happened last year in New Jersey, where, a woman was brutally stabbed to death less than 48 hours after she had gone to the Berlin Township police to find out why her handgun license application had been stalled for weeks.