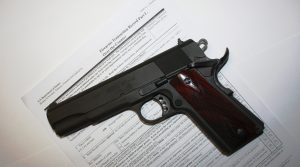 By Dave Workman
Editor-in-Chief
The Washington state House Civil Rights & Judiciary Committee has scheduled hearings on four gun control bills on Tuesday, Jan. 17 including measures to repeal the state's 40-year-old preemption law, require a permit to purchase firearms and mandate training, a third bill setting a 10-day waiting period and a fourth bill to ban so-called "assault weapons."
The National Rifle Association is already sending alerts to Evergreen State members.
House Bill 1178, discussed earlier this week, would repeal state preemption, which was first adopted in 1983 and again in 1985. It has been upheld by the state Supreme Court, infuriating anti-gun municipal officials wanting to set up their own gun control laws in various cities, especially Seattle. Washington's statute has served as a model for similar laws in several other states. At least 40 other states have adopted preemption laws
House Bill 1143 would establish a permit to purchase firearms, plus require would-be gun buyers to take a firearms safety course that includes a live-fire segment, and mandate a 10-day waiting period. It also includes a signed "waiver of confidentiality and written request that the health care authority, mental health institutions and other health care facilities release information relevant to the applicant's eligibility to purchase a firearm to an inquiring court or the Washington State Patrol firearms background check program."
Opponents of this scheme contend it turns a fundamental right into a government-regulated privilege by requiring permission from the police in order to exercise a right protected by both state and federal constitutions. The concept was part of Oregon's Measure 114, and it is now being challenged in federal and state courts.
House Bill 1144 also establishes a 10-day waiting period and has similar requirements to HB 1143.
Then comes House Bill 1240 which seeks to ban certain semiautomatic rifles such as the AR-15 and its clones, AK-47 and its clones, along with dozens of other legally-owned firearms. This measure also would ban certain semi-auto shotguns.
Gov. Jay Inslee and Attorney General Bob Ferguson, both Democrats, requested this legislation. They have advocated for a semi-auto ban for the past few years, referring to such firearms as "weapons of war."
Democrats actually gained some seats in the Washington Legislature, but Republicans are already promising a fight.
RELATED: