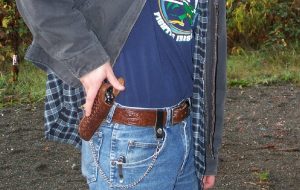 New data from the Washington State Department of Licensing revealed that as of July 31, there are 627,497 active concealed pistol licenses in the state, and more than 100,000 of those are found in King County, which encompasses Seattle, the state's beehive of anti-gun activism and Democrat politics.
Likewise, authorities in North Carolina also report a healthy surge in concealed carry interest. That state's Bureau of Investigations reported that the number of active permits has risen from 177,787 in 2010 to 647,553 on January 1 of this year, so that number has likely gone up from there.
And in Arizona, that state's Department of Public Safety reported 345,425 carry permits, as of Aug. 2.
According to the Crime Prevention Research Center, there are more than 17.5 million active concealed carry licenses and permits in the U.S. Washington's continuing climb strongly suggests that number will keep rising, especially in regions where police services are being cut back and there are reports of low staffing in local police agencies.
This new concealed carry record in Washington comes as longtime state Rep. Laurie Jinkins was elected to the post of state House Speaker. Jinkins, of Tacoma, has long been supportive of stricter gun control laws, and her new role essentially puts her in charge of which bills move forward. Evergreen State Second Amendment activists are predicting trouble ahead. Jinkins is the first woman to ever hold the speaker's position in Washington history.
Washington has long been one of the top states for concealed carry, with roughly one in ten adults licensed to carry. It is also an open carry state, with a relatively small but devoted open carry movement, and no licenses is required for law-abiding citizens to carry sidearms peaceably.