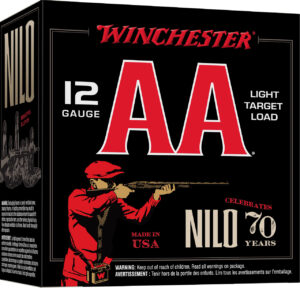 Available for a limited time only, the world-famous AA® shotshell, AA128  Light Target Load, has a new look as Winchester celebrates the 70th anniversary of NILO, its iconic hunting and shooting facility. This is the same ammunition sport shooters and competitors have trusted for more than 50 years, now with commemorative packaging that is sure to be a popular collectible.  

In 1952, John M. Olin took more than 600 acres of farmland joined by timber and turned it into a wildlife oasis. He created the ideal place to raise and train the best Labrador retrievers in the world and called it NILO. The land was dedicated to unsurpassed hunting, sport shooting, gun dogs and conservation education.  

Over the years, celebrities, political dignitaries, sports heroes, and avid outdoorsmen and women have enjoyed the hospitality at NILO. For decades, legendary AA shotshells have been used in the NILO fields and on its ranges. This specially packaged ammunition commemorates the legacy of John M. Olin and his commitment to conservation and the shooting sports.