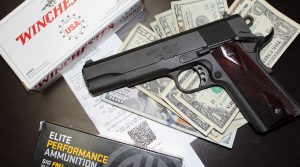 By Dave Workman
Editor-in-Chief
CBS News is reporting that Visa and Mastercard on Thursday "paused" their plan to use a special category identifying firearm purchases with a "merchant category code," delivering what the network called a "significant win for conservative groups and Second Amendment advocates.
It was also a victory for 24 state attorneys general who last fall warned the credit card firms they would take legal action against the companies, asserting that creating the new merchant code could possibly violate consumer protection laws. The state effort was spearheaded by Montana Attorney General Austin Knudsen, who issued a statement provided to TGM and other publications.
"Visa and Mastercard came to the correct conclusion," Knudsen said. "However, they shouldn't just 'pause' their implementation of this plan—they should end it definitively. Discover and American Express should do the same. This measure will do nothing to improve public safety while invading consumer privacy and inviting coordination between corporations and government agencies to erode Americans' fundamental right to keep and bear arms."
All of the involved AGs were Republicans.
Published reports say the decision by the two credit card firms "is a setback for gun control groups." They had contended that identifying credit card and debit card purchases specifically related to guns and "significant" ammunition quantities might help identify potential mass shooters before they could carry out an attack. It sounded like something straight out of Hollywood's "Minority Report," a futuristic film about a special law enforcement unit that arrested people before they could commit violent crimes.
At the time, gun rights activists lit up social media with concerns about the scheme, and many declared they would make all of their gun and ammunition purchases, including for reloading components or gun parts, with cash only to avoid being tracked.
When the plan was announced last September, CNN said the new merchant code "was approved by an international group that sets payment standards."