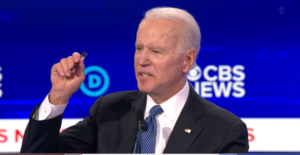 By Dave Workman
Editor-in-Chief
A year-end Rasmussen poll showing Joe Biden has lost ground among likely U.S. voters for his handling of crime and law enforcement issues helps explain the continued interest in private gun ownership, the Citizens Committee for the Right to Keep and Bear Arms said in a statement Tuesday.
Poll numbers for Biden have been declining for weeks, and Wednesday's daily presidential tracking poll by Rasmussen shows a "minus-26" presidential approval index rating, the polling company noted. Fifty-eight percent of likely voters disapprove of Biden's job performance while 41 percent approve, Rasmussen said. But a closer look at the data reveals only 22 percent of those voters "strongly approve" of Biden's job performance, while a staggering 48 percent "strongly disapprove," and it has been like that for several days.
According to the FBI's National Instant Check System numbers, November saw more than 2.7 million background checks initiated, including more than 687,000 during the week leading up to "Black Friday," the day after Thanksgiving. If the numbers remain on course, 2021 could wind up being the second busiest year for NICS checks, following 2020's record of more than 39.6 million. At the end of last month, the FBI says there had been more than 35.7 million NICS checks initiated.
It is important to note, as the FBI acknowledges, that not all NICS checks translate to gun sales. Those are raw data numbers only, but they do reflect continued strong interest in gun buying by the public. It is safe to conclude millions of firearms have been purchased this year, and many by first-time buyers who never before owned a gun.
"Since Biden took office," said CCRKBA Chairman Alan Gottlieb, "police agencies have continued to lose personnel, crime has spiked upward and increasing numbers of Americans have taken more responsibility for their personal safety and that of their families. For a guy who came into office promising more restrictions on legal firearms ownership, Joe Biden has only stoked gun sales because his policies are making Americans feel less safe, because, in fact, they are."
With only two days remaining in the year, people are watching to see how the murder numbers stack up in cities around the country, including Chicago, Baltimore, Washington, D.C., New York City, Detroit, Philadelphia, Portland, San Francisco and Seattle.
"Joe Biden and his handlers need to face reality," Gottlieb observed. "Their policies and performance do not resonate with the majority of citizens. When you throw in Rasmussen's revelation that 67 percent of likely voters think the country is headed in the wrong direction, you have a disaster on your hands, people have lost faith in their ability to lead, and they are preparing for the worst. It's a signal that Biden should leave gun rights alone for the remainder of his time in office."
Not only has Biden been polling badly with Rasmussen, a new Gallup survey revealed the president is less popular than Vice President Kamala Harris. He trails badly behind Chief Justice John Roberts.
According to Gallup, Roberts ranked highest among 11 "U.S. leaders" in the survey conducted Dec. 1-16, with a 60 percent job approval rating. Also ranking higher than Biden are House Republican Leader Kevin McCarthy at 46 percent, and Harris and Sen. Chuck Schumer each at 44 percent. The president pulled a dismal 43 percent job approval rating, ahead of House Speaker Nancy Pelosi's even worse 40 percent.
If the poll numbers are any indication, Biden will enter his second year as president in major trouble. He has been unable to advance his agenda, which includes sweeping gun control measures including bans on so-called "assault rifles" and "large capacity magazines," expanded background checks, one-gun-per-month legislation and an effort to push states into requiring licenses to purchase firearms, which translates to seeking government permission to exercise a right protected by the constitution.
The U.S. Supreme Court appears poised to declare such requirements unconstitutional and if one considers the strong possibility of Congress being flipped in November, Biden could wrap up his final two years in office being unable to push for the gun control measures he has sought for most of his 50 years in government, and facing a GOP majority eager to push back on his administration's inability or unwillingness to deal with crime.