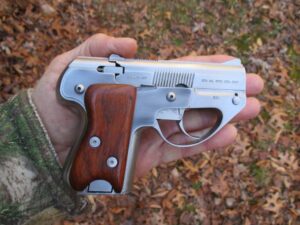 By Jim Dickson | Contributing Editor
The Simmerling is a unique five-shot manually operated repeating pistol designed to be the smallest and lightest .45 ACP possible for use as a back-up and/or deep cover sidearm.
In order to achieve every possible size and weight reduction along with maximum reliability when the shooter's life was at stake it was made as a manually operated repeater with only 33 parts total. There is a heavy standing breech on the frame where the barrel is manually pushed forward and then pulled back to cycle the rounds from the 4-shot magazine.
Speed of getting in operation is increased by having no safety. It doesn't need one. It's double action trigger is as safe as a revolver without any manual safety. There is a holster lock lever on the right side which can be set to hold the barrel closed and this is automatically disengaged when the trigger is pulled.
The magazine is removed by simply squeezing the exposed portion at the base of the grip which compresses the spring loaded tabs made integral with the magazine that hold the magazine in place.
The mesquite wood grips are from a 200-year-old tree on the maker's ranch.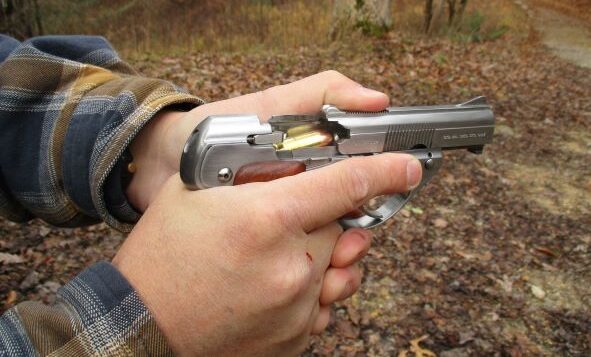 The gun is very easy to operate with a two hand grip for the second hand is free to cycle the action. The top of the pistol has serrations for the helper hand's thumb to reach up and snap the slide forwards and then back into battery. It is all very fast, When the trigger is pulled it forces up a lock that holds the barrel fast during firing before the double action completes its firing cycle. Once the trigger is released the barrel can be pushed forward to eject the case and pulled back to chamber a new round. The gun will not fire unless the barrel is locked all the way back. A rate of fire of one shot a second can easily be attained with practice.
What you have with this unique design is a 24-ounce pistol 5.2 inches long, 3.7 inches high, 1-inch-thick, weighing 24 ounces, yet it will hold five .45 ACP rounds, one in the chamber and 4 in the magazine. The barrel is 3.656 inches long which is enough to provide good velocity and accuracy if you do your part. There are fixed sights as adjustable sights serve no purpose on a gun of this size and just get in the way. To give you an idea of just how small this is a Walther PPK has a 3.38-inch barrel, is 6.1 inches long, and weighs 20 ounces.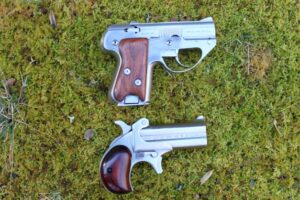 As with any unique specialized design there are those who criticize it. These always seem to be people who have never had to use a deep cover pistol against multiple determined attackers though. This is a specialized design for covert work and it is a brilliant solution to a life or death problem for those engaged in activities requiring it. It should be noted that the U.S. Army bought a small number of these. The F.B.I. wanted to buy 800 if they could get the price down but when that wasn't possible the deal fell through.
The Simmerling was designed by Philip R. Lichtman in 1979. He made them of the best materials and was very particular about getting each gun just right. However, the small scale of his production caused them to be very expensive and only about 600 ended up being made. That is often the case when a gun is made for a highly specialized market. Paris Theodore of Seventrees Holsters made custom holsters for a number of intelligence agents who bought Simmerlings for deep cover carry but that is a small market and the customers often have their own ideas about what they want to carry. I knew one whose choice was a Colt Gold Cup National Match .45 and he was big enough to conceal it on his person.
In 1982, Bob Saunders of American Derringer Co. bought the trademarks and patents and they have made it ever since. Bob died in 1993 and his widow, Elizabeth, has carried on his dream of gunmaking, hand building guns with one employee. Production is still small and they take great pride in their quality. Only 10 a year are made entirely by hand to the highest quality standards of the best stainless steel. The price, therefore, is still high, $4,280 plus $30 shipping, but you get what you pay for. A top of the line handmade pistol that took 6 to 8 weeks to build.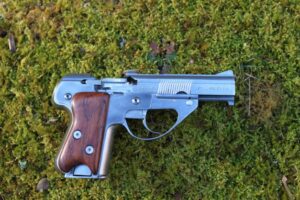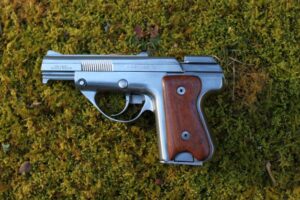 Fit and finish is everything you would expect from a fine handmade pistol. Everything operates as slick as glass. All the sharp edges are rounded off much better than on most pocket pistols. That is a very important yet often overlooked point.
The ergonomics are good, allowing the pistol to handle and point well. You have one finger on the trigger and two on the grip with the little finger under the magazine where it helps support and steady things just like on the old S&W top break pocket revolvers. The sights are big enough to be seen and they show no tendency to move about during the double action trigger pull.
The Simmerling is intended for 230-grain Mil-Spec ammo and this is fine because this is the best ammo for serious use. It has all the knock down power it needs yet still retains the penetration needed for shooting through cover or dealing with a bear about to maul you.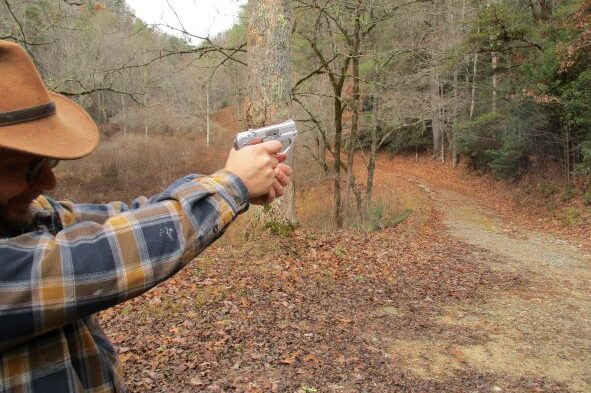 For test firing I had 220 rounds consisting of 20 rounds of Black Hills 230-grain FMJ and 200 rounds of Barnaul 230-grain FMJ. These two companies make some of the highest quality ammo I have ever tested.
Small guns are harder to shoot accurately than full size military pistols but the Simmerling is surprisingly accurate. At 25 yards anyone should be able to keep all their shots in the kill zone of a silhouette target. Recoil is heavy but not bad.
This is an extremely well made specialized pistol whose attributes have always been appreciated in covert operations where they shined. There is a lot of cloak and dagger history that can never be told that goes with this gun.