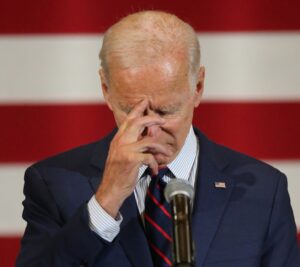 By Dave Workman
Editor-in-Chief
Two polls released Thursday show President Joe Biden's popularity has plummeted, perhaps for various reasons, and his gun control policy might be among them.
As reported by Fox News, "Biden's approval rating currently sits at just 38%, a significant drop from his 45% approval in February, according to a new poll from The Associated Press and the NORC Center for Public Affairs Research (AP-NORC)."
Rasmussen Reports is also noting that its Daily Presidential Tracking Poll shows Biden with 47 percent voter approval of his job performance, but 50 percent disapproval. Breaking those numbers down, only 27 percent "strongly approve" of the president's performance, while 41 percent "strongly disapprove" of his job performance. According to Rasmussen, this gives Biden a Presidential Approval Index rating of -14.
The Fox report suggests Biden is in trouble because of the economy, and perhaps even his advanced age.
"Some members of the Democratic Party have expressed concern with his age," Fox reported, "calling for younger blood to lead the party's ticket in 2024. Biden would be 82 by Inauguration Day in 2025."
According to the report, Biden "has not had a positive approval rating since August 2021." In July of last year, his rating bottomed at "approximately 57%" disapproval while only 36 percent approved.
Earlier in the week, Rasmussen's weekly update on whether the public believes the country is headed in the right direction or on the wrong track revealed only 36 percent think the U.S. is going in the right direction. That is down three points from the previous week. Conversely, the Rasmussen poll shows 58 percent of voters "believe the nation is headed down the wrong track, up two points from a week ago."
While the national economy, which includes inflation challenges for the individual pocketbook—gas and groceries cost more—there is no small concern within the Second Amendment community that the Biden administration is intent on creating as many restrictions on gun ownership as possible. A hearing held Thursday before the House Committee on Oversight and Accountability focused on the Bureau of Alcohol, Tobacco, Firearms and Explosives' rule change regarding pistol stabilizing braces is an example. According to three of the four panelists testifying before the committee—Alex Bosco, founder and inventor of the Stabilizing Brace; Amy Swearer, senior legal fellow at the Heritage Foundation, and Matthew Larosiere, a partner at the Zermay-Larosiere Law Group and adjunct scholar of law and policy for the Second Amendment Foundation (click on each person's name to read their submitted statements)—the agency has far overstepped its authority by creating a regulation with criminal penalties, a function reserved to Congress, rather than a government agency.
The ATF actions were defended by committee Democrats and by Rob Wilcox, federal legal director at Everytown for Gun Safety, the Michael Bloomberg-supported gun control group.
The Second Amendment Foundation has been running a television advertisement on several cable networks featuring a film clip of Biden acknowledging his efforts to ban the sale of semiautomatic rifles and 9mm pistols. SAF founder and Executive Vice President Alan Gottlieb estimates several million people have viewed this and similar ads over the past year.