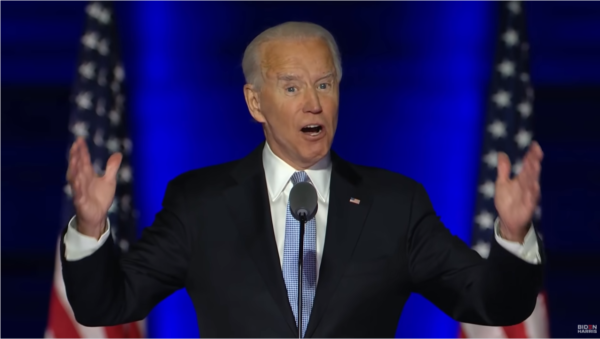 By Dave Workman
Editor-in-Chief
President Joe Biden's new executive order on gun control is aimed at punishing "all gun owners" instead of criminals "who mostly prey on the president's base in liberal cities," according to a panel of Fox News personalities appearing Wednesday on "The Five."
Essentially, Biden's plan targets the wrong people when it should focus on criminals active in big cities, which are coincidentally controlled by Democrats. Fox co-host Greg Gutfeld reportedly "cited the statistically inordinate amount of violent crime in liberal precincts like Chicago, which lacks a single Republican on its city council, but has one of the highest violent crime rates in the country."
By no small coincidence, the head of one of the nation's leading grassroots gun rights organizations came out swinging Wednesday with a criticism of Democrats who are leading the charge on gun ban legislation, and coming up with ways to inconvenience law-abiding citizens, but have done nothing to prevent or reduce violent crime.
Alan Gottlieb, chairman of the Citizens Committee for the Right to Keep and Bear Arms (CCRKBA), raised alarms noting, "We are witnessing a full frontal assault on Second Amendment rights, not only in Washington, D.C. with Joe Biden leading the charge, but in state legislatures in California, Connecticut, Michigan, Minnesota, New Jersey, New York, Illinois, Washington and elsewhere Democrat majorities have gained control. Equally alarming is the support their extremist gun control agenda is getting from a small but vocal minority of gun prohibitionists who are determined to destroy the Second Amendment."
He said supporters of strict gun control laws, or gun bans such as Biden's long sought-after permanent ban on so-called "assault weapons," are "anti-gun zealots." The problem with their approach is that it necessarily tramples on rights protected by the Second Amendment.
He cautioned the gun ban crowd, asserting they "have forgotten that you can't give away your neighbor's freedom and expect to keep your own."
In California, according to Gottlieb and the CCRKBA, the threat has spread to the First Amendment, as the state has enacted a statute clearly designed to prevent, or at least discourage, legal challenges to gun control laws. This statute is now being challenged in federal court on First Amendment grounds.
In other states, he noted, Democrats want people to jump through bureaucratic hoops, such as expensive training mandates or obtaining purchase permits from the police that amount to prior restraint, and require access to their medical records before they can purchase a gun, which raises Fourth Amendment issues. In New York, getting a carry permit even requires disclosure of social media accounts.
"What is truly alarming," Gottlieb observed, "is the holier-than-thou arrogance of Democrat politicians who think penalizing law-abiding citizens by restricting their rights will somehow prevent criminals or crazy people from committing mayhem."
He was also critical of the press, for clearly siding with the gun prohibition movement.
"Sadly, the establishment media has obviously chosen sides in this fight," he said, "going so far as literally adopting the anti-gun vocabulary by describing gun control legislation as 'gun reform' or 'gun safety' measures. The media is unwittingly opening the door to regulation of their rights, as Democrats and the Biden administration have already shown a desire to control and manipulate the news narrative."
Gottlieb noted the irony in the current Democrat push to ratchet down on gun rights, even in the wake of last summer's U.S. Supreme Court ruling in New York State Rifle & Pistol Association v. Bruen, which has set new guidelines on how the courts must handle Second Amendment cases.
"This isn't about preventing crime or improving public safety, it's about control," he said. "It's not about guns, but about rights, not just the right to keep and bear arms, but the right to privacy and redress of grievances. Democrats want to diminish First and Second amendment rights so they can control the narrative and decide what people can own. For a party that calls itself 'Democrat,' this is about as far away from democracy as it gets."