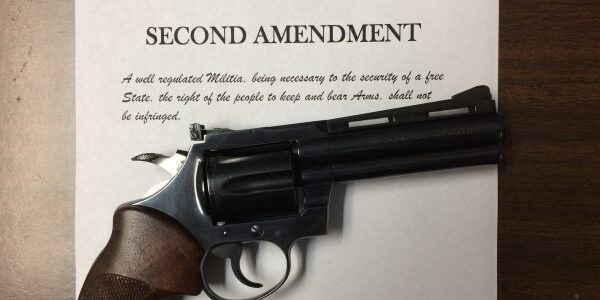 By Dave Workman
Editor-in-Chief
In a party line 20-17 vote, the Democrat-controlled Michigan State Senate Thursday passed an 11-bill gun control package that now goes to the state House, which last week adopted its own set of gun restrictions.
According to the Detroit News, the package includes measures to expand background check, so-called "safe storage" requirements, and a "red flag" bill.
While the newspaper portrayed the vote as a response to "last month's deadly shooting at Michigan State University," Bridge Michigan noted in its coverage, "The bills are years in the making, however. Democrats proposed similar policies in previous sessions but were unable to advance legislation until winning narrow majorities in the Legislature last fall."
This suggests Democrats were waiting for two things to happen: taking the majority in Lansing and having a tragedy to use as a launchpad.
But Republican Sen. Joseph Bellino of Monroe offered the perspective of his caucus when he observed,
"After recent tragedies at MSU and Oxford High School, I understand the desire to do something, but passing more laws just to say you did something is terrible policy."
He added further perspective, noting, "They will give people a sense of false security, all while infringing on everyone's right to own a firearm, to hunt or even defend themselves and their family."
Democrats, meanwhile, touted the "history making" aspect of passing the legislative package. Sen. Rosemary Bayer of West Bloomfield was quoted by the Detroit News stating, "We are finally taking action to begin the process of making our state safer, making our kids, our families, all the people of Michigan safer today…Today, we are finally going to do what the people of Michigan are overwhelmingly demanding that we do."
Michigan is one of a handful of states where Democrat legislative control this year has led to a swirl of gun control activity. The situation is the same in Minnesota and Washington. For Michigan, its' the first time in several years since Democrats were in complete control of the Legislature and the governor's office. Democrat Gov. Gretchen Whitmer had called for new gun controls.
Bridge Michigan noted Sen. Bellino warned his colleagues that the legislation amounts to a "serious infringement on the Second Amendment," and that passage of the bills will "not prevent future violence because criminals and mentally incompetent people intent on doing harm don't care about the law."
It is not clear whether any organization will challenge any of the measures in court if they become law.