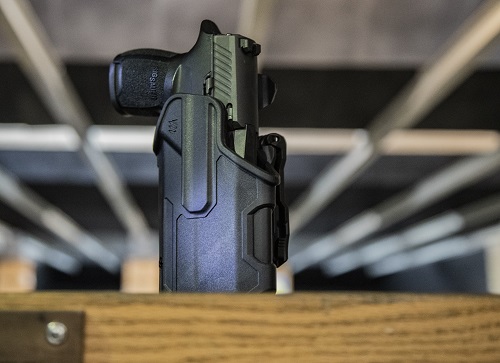 Blackhawk has announced today that it has added new T-Series Level 2 and Level 3 Duty holsters compatible with the TLR 7/8 pistol light for the SIG SAUER P320 to its lineup, the company announced.
The Level 2 Duty (L2D) and Level 3 Duty (L3D) Light Bearing holsters are available in the right-handed configuration and provide SIG P320 owners with additional options when searching for the right carry platform.
For those seeking an added level of security, the L3D holster features a hood across the back of the firearm for extra retention. Each holster comes standard with Blackhawk's Jacket Slot Belt Loop.
As the world's first thumb driven, dual-injected molded holster, each model features a soft touch inner layer that is both super slick and sound-dampening, the company said. This durable and efficient, low-friction design translates into a smooth, quiet draw or re-holstering of the sidearm. Externally, the T-Series holster features a proprietary, glass-reinforced nylon to ensure the highest degree of durability available in a duty rated holster, according to Blackhawk.
The new holsters are designed to follow Blackhawk's Master Grip Principle, allowing the user's hand to land naturally where it should in order to deploy the sidearm.
For more information on the new T-Series L2D and L3D Light Bearing Holsters for the SIG P320 or to view the complete line of T-Series holsters visit www.blackhawk.com/holsters/