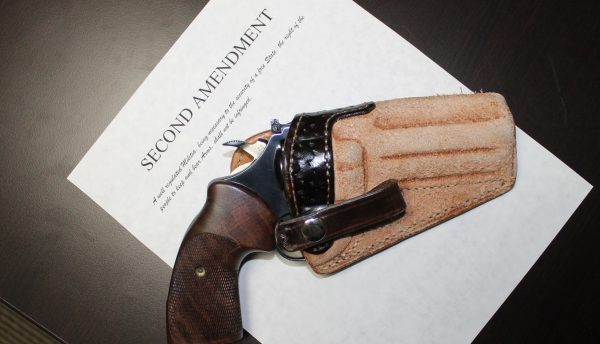 By Dave Workman
Editor-in-Chief
Anti-gun Democrat U.S. Senators Elizabeth Warren (Mass.) and Cory Booker (N.J.) have introduced restrictive gun control legislation, and both bills have been referred to the Senate Judiciary Committee.
Warren's S. 3223, co-sponsored by Sen. Richard Blumenthal, seeks to amend Title 18 "to prevent bulk sales of ammunition, promote recordkeeping and reporting about ammunition, end ammunition straw purchasing, and require a background check before the transfer of ammunition by certain Federal firearms licensees to non-licensees."
Warren's bill has been dubbed the "Ammunition Modernization and Monitoring Oversight Act."
But the farther-reading measure is S. 3212, submitted by Booker with Senators Blumenthal, Warren, Robert Menendez, Brian Schatz and Mazie Hirono. Called the "Federal Firearms Licensing Act," this legislation seeks to amend Title 18 to require a federal license to purchase or receive firearms.
Highlights of this legislation include completion of a mandated firearms safety training course (including a written test to demonstrate knowledge of applicable firearm laws), hands-on testing to include live fire and the stipulation that "each license issued under this section shall be valid for the purchase of a single firearm," and the license has a maximum 30-day purchase window.
Also, the legislation states, "a license issued under the system shall expire on the date that is 5 years after the date on which the license was issued."
This is not the first time anti-gun Democrat lawmakers have proposed restrictions on firearms owners, but it underscores the lengths to which Capitol Hill gun control proponents are willing to go. Booker's comment on the bill suggests he does not discern between a government-regulated privilege and a constitutionally-enumerated right.
"If you need a license to drive a car," Booker said in a prepared statement, "you should need a license to own and use a gun. Data shows that states that have implemented licensing laws have significantly reduced gun-related deaths. This legislation would mirror this common-sense idea at the federal level and enhance public safety by ensuring that individuals seeking to purchase firearms pass a standard background check and are properly trained before obtaining a required license. We are not powerless to stop the carnage in our communities. Meaningful reforms like this will prevent gun violence, save lives, and make our communities safer."
His thoughts on licensing were reflected by Senators Schatz and Blumenthal.
Second Amendment activists maintain that a license requirement reduces a constitutional right to the level of regulated privilege.