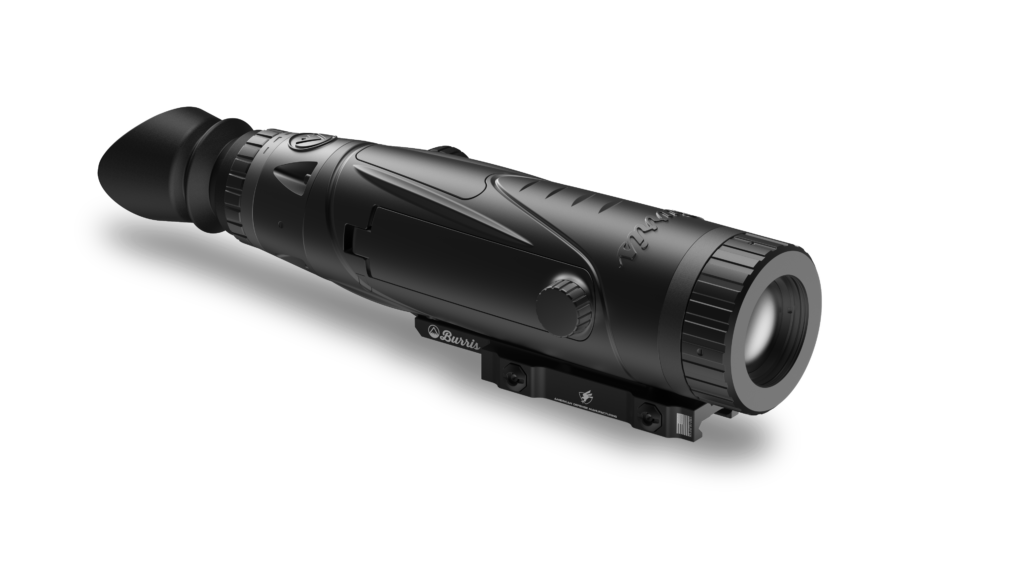 Burris Optics has announced that the Burris Thermal V2 Riflescope is now shipping.
Engineered to deliver best-in-class thermal imaging capabilities, the Thermal V2 Riflescope delivers a simple, fast, and powerful experience revolutionizing the way predator and hog hunters, outdoor enthusiasts, and professional users experience the great outdoors, according to a company news release.
Designed with advanced thermal imaging technology, the Burris Thermal V2 Riflescope provides users with a thermal imaging solution that enhances situational awareness, detection, and tracking—even in the dead of night. With its exceptional performance, the Burris Thermal V2 Riflescope empowers users to uncover hidden targets and detect heat signatures with remarkable clarity and accuracy.
Equipped with Burris Cyber Core, a state-of-the-art thermal processing system, the BTS V2 combines a 12mm 35MM Objective lens, 400×300 thermal sensor and an advanced image processor, to deliver clear and detailed images. Users are able to identify objects and targets such as pigs and coyotes at distances better than ever.
The Burris Thermal V2 Riflescope is filled with new technologies, including video recording and device control via the BurrisConnect mobile app where users can stream video to up to five devices in real time. Multiple reticle options in first and second digital focal planes, image interpretation using contrast and thermal intensity control, and customizable color palettes allow users to adapt the Thermal V2 Riflescope to suit their preferences. Additional features include picture-in-picture, stadia metric ranging, and hot track.
A user-friendly interface creates effortless navigation and quick access to essential features. The intuitive UI was inspired by popular video game menus and is accessed using a rotary dial controller for quick and easy functionality in total darkness.
Power management was a high priority for designers. The BTS V2 has an extended battery life and is hot swap capable using widely available rechargeable 18650 batteries. Users can rely on the Thermal V2 Riflescope for prolonged use during extended excursions without worrying about frequent recharging.
Burris Optics partnered with American Defense Manufacturing to co-design a unique quick detach mounting solution allowing up to 163mm of forward and rear travel when pairing the scope to the mount. This gives the user maximum flexibility and ideal eye relief when mounting the optic across MSRs or bolt actions, Burris said.
The Burris Thermal V2 Riflescope represents a new era in thermal imaging technology, showcasing Burris Optics' dedication to providing industry-leading solutions to meet the diverse needs of outdoor enthusiasts, hunters, and professionals.
For more information about the Burris Thermal V2 Riflescope, please visit www.burrisoptics.com.
Model: BTS35 V2
Item Number: 300617
Magnification: 3.2-12.7X
Detector Resolution: 400×300
Detector Pixel Size: 12mm
Frame Rate: 50 Hz
Focal Length: 35mm F1.0
Focusing: Manual
Visual Angle: 7.8×5.9
Digital Zoom: 1x-4x
Eye Relief: 48mm
Display: 1024×768 OLED
Wi-Fi: Yes
Color Pallets: White Hot, Black Hot, Red Hot 1, Red Hot 2, Red Hot 3, Blue Hot, Green Hot
Working Hours: 5+ Hours
Battery: 18650
Adapter: USB -C
Weight: 30.6 Oz.