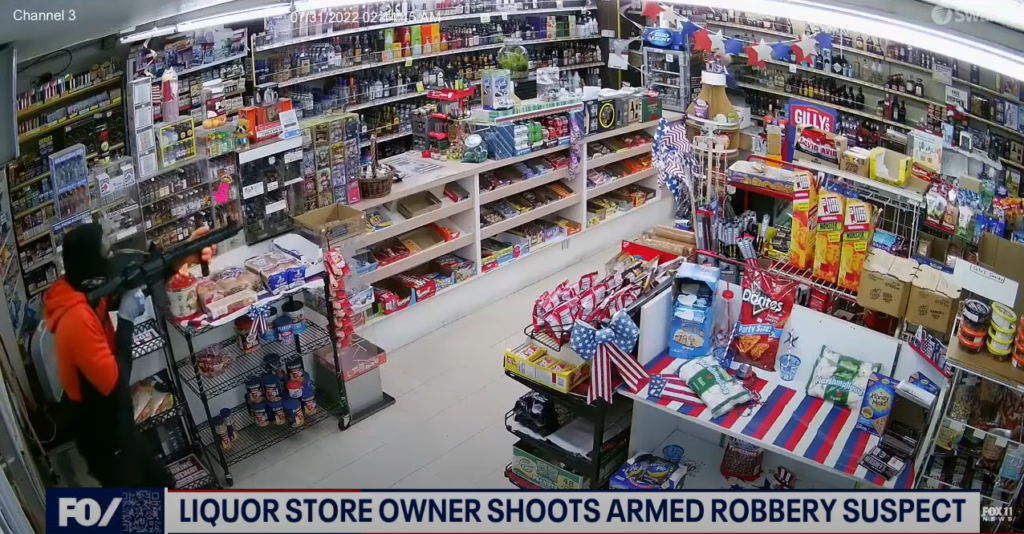 By Dave Workman
Editor-in-Chief
Two days after a widely-reported shooting incident at a liquor store in Norco, Calif. that was captured on the store's security video, four suspects—including the man who was hit with a shotgun blast fired by the owner and ran screaming from the store—have been charged with felonies, according to Fox News in Los Angeles.
Video of the shooting at Norco Market & Liquor early Sunday morning has gone viral and the store owner is being hailed as a hero. Public reaction has been universally supportive of 80-year-old store owner James Craig Cope. Fox News said he used a 12-gauge pump shotgun to fire one blast at a rifle-toting suspect, identified as DeShawn Lee Belvin, 23. He is the alleged suspect who entered the store and raised a semiautomatic rifle toward Cope, who had seen the suspects outside his store donning masks and carrying guns. Cope grabbed his shotgun, took cover behind a counter display and as soon as the would-be robber raised his rifle, he leveled the pump gun and fired.
The rifle being carried by the suspect in the video appears to have an original capacity magazine, which is banned in California.
The wounded man can be heard on the security video screaming "He shot my arm off! He shot my arm off!" Then all four suspects piled into what turned out to be a stolen BMW SUV and sped away. Sheriff's deputies found them a short time later at a local hospital.
In addition to Belvin, the suspects were identified as Davon Anthony Broadus, 24, of Inglewood, Justin Kyle Johnson, 22, of Inglewood, and Jamar Elijah Williams, 26, of Las Vegas. They face charges of attempted robbery, possession of stolen firearms, using guns during commission of a felony, victimizing a person over age 65 and elder abuse, because Cope is an octogenarian. They are being held in lieu of $500,000 bail.
Belvin will be jailed when he is released from the Riverside University Medical Center.
According to CBS News in Los Angeles, Cope suffered a heart attack, but he was back to work two days later and talking to reporters.
"I would always protect my employees, my customers, myself," Cope said during one interview. "This instance, fortunately, I was here by myself, so I only had to worry about that. I took care of it and that was that."
Cope added, "I did a lot of hunting when I was a little kid. I'd put feed…food on the table. So, I still remember things from a long time ago."
Obviously, he remembered very well. He told a reporter for Fox11 News, "There wasn't much time to think" when he saw the suspects preparing to enter his store.
The incident is being investigated by the Riverside County Sheriff's Department. Captain Mike Koehler issued a terse statement, "A lawfully armed member of our community prevented a violent crime and ensured their own safety while being confronted with multiple armed suspects."
As reported by Ammoland, Cope has become something of a celebrity on social media, same as Elisjsha Dicken, who fatally shot a would-be mass killer at a shopping mall in Greenwood, Indian last month, halting what would have been a mass shooting.