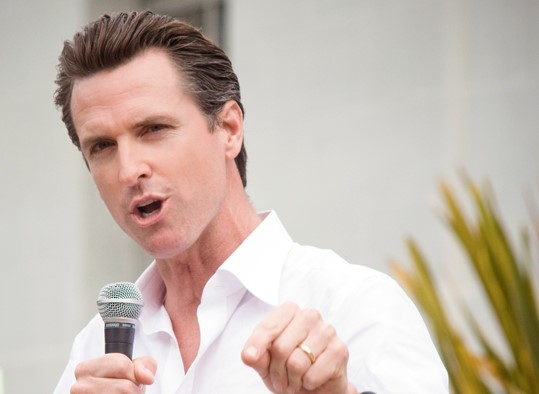 By Dave Workman
Editor-in-Chief
California lawmakers have approved a call by Democrat Gov. Gavin Newsom for a constitutional convention to adopt a 28th Amendment to the U.S. Constitution requiring gun control, essentially emasculating the Second Amendment protection of the right to keep and bear arms.
The resolution passed the Assembly 51-14 with several Democrats reportedly not voting.
According to the Los Angeles Times, "Newsom's resolution asks Congress to call a constitutional convention to allow states to approve an amendment that that imposes new laws requiring universal background checks on gun purchases, raises the federal minimum age to purchase a firearm from 18 to 21, institutes a 'reasonable waiting' period for all gun purchases and prohibits the sale of assault weapons to the public."
In addition, according to the Times, Newsom's resolution "also calls for states to be able to approve an amendment to affirm that federal, state and local governments may adopt safety regulations limiting firearm sales, possession and carrying guns in public."
Under such language, the right to keep and bear arms becomes a government-regulated privilege, critics contend.
The Washington Examiner is suggesting that Newsom's proposal mandating universal background checks translates to creating a national gun registry. Adoption of the resolution would require affirmative action by three-fourths of all state legislatures. While the odds are long, according to some observers, the Citizens Committee for the Right to Keep and Bear Arms is taking no chances.
In a response to the California Assembly vote, CCRKBA Chairman Alan Gottlieb announced Tuesday his organization is "in the process of mailing millions of petitions to veto this proposed 28th Amendment and stop Newsom's fanatical plan to shred the Constitution and our Bill of Rights."
"We will not sit back and wait," Gottlieb said, "because there are too many billionaires out there willing to put their money behind Newsom's crusade. So, we're starting right now to build the public groundswell against this despicable idea."
The Washington Examiner reported "prominent Democrats, including State Senator Scott Wiener, have voiced significant concern about such a convention." The article quotes Wiener stating, "This is not a non-binding resolution. This is California going on record for the process of triggering a constitutional convention. When you reach a legal threshold, a constitutional convention is triggered. There is nothing that says the calls for a convention have to be identical. There is nothing in the Constitution that says we can have a Constitutional convention limited to one topic."
Wiener did not vote on the resolution in committee, and he voted against it on the Senate floor, the Examiner noted.
In his criticism of the Newsom proposal, CCRKBA's Gottlieb observed, "Gavin Newsom's proposal would effectively turn the right to keep and bear arms into a government-regulated privilege. As we just witnessed in New Mexico, an anti-gun-rights governor could use such a constitutional amendment to effectively disarm the citizenry as a 'public health emergency' without any recourse of legal challenge. We're actually very fortunate that New Mexico Gov. Michelle Lujan Grisham attempted such an outrageous infringement on Second Amendment rights, just so the nation could see how extreme she, Newsom and other like-minded politicians would become if they could legally get away with it."