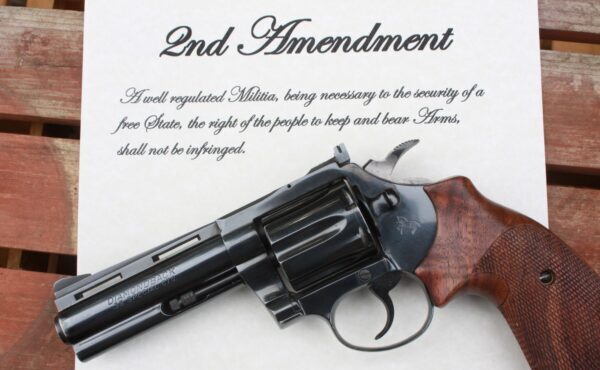 By Dave Workman
Editor-in-Chief
Tensions have eased a bit in New Mexico after anti-gun Democrat Gov. Michelle Lujan Grisham backed off on her gun control decree which originally banned concealed and open carry of firearms in Albuquerque and surrounding Bernalillo County.
The decision came after she was named in at least four separate federal lawsuits challenging the ban on Second Amendment grounds, and after local officials publicly announced they would not enforce the ban.
Now, according to the Associated Press, Grisham is narrowing her focus to playgrounds and public parks "where children and their families gather."
However, she reportedly told reporters at a Friday news conference that she would pursue a "framework that will pass legal muster," which might amount to an admission her initial order was not legal under the Constitution.
Grisham was named as a defendant in several lawsuits, including one filed by the Second Amendment Foundation, which targeted her both individually and in her official capacity. She was under political fire for many days following her gun ban announcement, and even members of her own party derided the announcement as unconstitutional.
Last week, U.S. District Judge David Urias granted a temporary restraining order covering all the lawsuits, effective until early October.
According to the Associated Press report, the governor's "amended restrictions" will not apply to lands overseen by the State Land Office or State Parks Division of the Energy, Minerals and Natural Resources Department.
The ban on open and concealed carry was declared under a "public health emergency," which got no traction with gun rights activists or even members of Grisham's own political party.
Under the governor's amended order, "No person, other than a law enforcement officer or licensed security officer, or active duty military personnel shall possess a firearm…either openly or concealed in public parks or playgrounds, or other public area provided for children to play in, within cities or counties averaging 1,000 or more violent crimes per 100,000 residents per year since 2021 according to Federal Bureau of Investigation's Uniform Crime Reporting Program and more than 90 firearm-related emergency department visits per 100,000 residents from July 2022 to June m2023, according to the New Mexico Department of Public Health."
Still in the decree is a tenet that orders the state Regulation and Licensing Department to "conduct monthly inspections of licensed firearms dealers in the State to ensure compliance with all sales and storage laws." This mandate is, critics might suggest, tantamount to harassment of licensed firearms dealers.