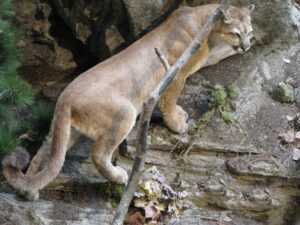 When the Spokane Spokesman-Review reported the killing of a big male mountain lion in Pend Oreille County—a story picked up by the Centralia Chronicle and Wenatchee World—it rekindled a long-simmering feud between people who approve of killing cougars and those vehemently opposed to it.
The 197-pound tom had been captured and tagged three years ago by wildlife biologists with the Kalispel Tribe. Even then, according to the story, "biologists had to dart him twice."
"He was so muscular," the story said, "that one of the darts popped out when the animal flexed his thigh muscle. On average, tom cougars weight between 150 and 155 pounds."
Hunting mountain lions with hounds was outlawed by initiative in Washington more than two decades ago. Outdoorsmen and women, ranchers and rural landowners aren't keen about it, while urbanites tend to support the ban.
The report noted the hunter salvaged about 60 pounds of meat from the cougar, which many people say tastes like pork when properly prepared.
The story quoted Kalispel tribal biologist Bart George, who texted, "Congratulations to the hunter, that's a big mature animal that has very likely sired lots of offspring in the region. The removal of the big cat will make room for another mature male to fill his niche."
Evidently, this is part of nature that cougar lovers don't understand. Another cat will move in to the territory.
Hunter Brandon Reed was camping at Carl's Lake in Pend Oreille County on Sept. 9 when he spotted the big cougar from a distance of more than 350 yards. Armed with a Tikka bolt-action rifle in .300 Win. Magnum, he fired, killing the predator. When he moved in to retrieve the cougar, he reportedly discovered the collar and tag, and notified state and tribal biologists, the story related.
It is not unusual for a hunter to notify wildlife agencies of such a kill, but that doesn't prevent hunting opponents from getting upset. In this case, they took to Facebook when the story was published, as did sportsmen and women who support cougar hunting.
There is another aspect to the story. Reed, the hunter who legally shot the mountain lion, is hoping it winds up in the record book. The world record cougar was killed in 1979 in British Columbia, and the largest big cat taken in the UL.S. was killed in the Selway-Bitterroot Wilderness in Idaho, in 1988, the newspaper noted.
But the reaction from supporters and opponents provides an interesting—perhaps alarming—look at the mindset on both sides of the aisle.
One person wrote on Facebook: "It'd be interesting that in order to hunt apex predators, the hunter got to be hunted for a day."
Another critic stated, "How pathetic does a man have to be to kill an animal like this? Not killed by a hunter, killed by a trophy goon."
One woman bristled, "People that kill animals for sport are psychopaths and should be locked up. Evil evil."
On the other side of the issue, one woman observed, "As long as it's legal, the person eats the meat and the animal killed humanely I have no issued with killing it."
Another person wrote, "Congratulations this is a (sic) awesome accomplishment not only do you have a bunch of meat but possibly a Boone and Crockett record."
And one man who seems to understand how hunters are part of the management scheme noted, "Good deal, since they have no predators to keep there (sic) numbers in check…and those crying about it have no clue the damage mountain lions cause to wildlife and domestic animals if population isn't kept in check."
There were, according to a Facebook tally, some 1,600 comments in that one thread.