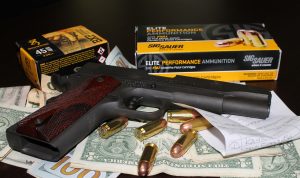 By Dave Workman
Editor-in-Chief
The Illinois State Supreme Court handed Cook County anti-gunners a major defeat Thursday, unanimously (6-0) striking down a tax on firearms and ammunition purchases as unconstitutional, reversing an appeals court ruling upholding the tax.
Chief Justice Ann Burke did not participate in the ruling, the State Journal-Register said. The opinion was authored by Associate Justice Mary Jane Theis.
According to the Journal-Register, the gun tax took effect in April 2013, assessing a $25 fee on each retail gun purchase and a 5-cent fee on each centerfire cartridge, or a 1-cent tax on each rimfire cartridge. The tax was challenged by Guns Safe Life, Inc., and the case has been moving slowly through the courts for the past eight years.
Writing for the court, Justice Theis observed, "While the taxes do not directly burden a law-abiding citizen's right to use a firearm for self-defense, they do directly burden a law-abiding citizen's right to acquire a firearm and the necessary ammunition for self-defense."
As reported by the Chicago Sun-Times, Justice Theis also observe the taxes "impose a burden on the exercise of a fundamental right protected by the second amendment."
A spokesperson for Cook County Board President Toni Preckwinkle expressed disappointment at the ruling, but indicated the board would consult legal counsel to determine any future actions.
The 14-page ruling further noted, "Under the plain language of the ordinances, the revenue generated from the firearm tax is not directed to any fund or program specifically related to curbing the cost of gun violence."
If the tax was designed to reduce so-called "gun violence," it has failed miserably. Cook County encompasses Chicago, and the annual body counts in that city often exceed the totals of people reportedly killed in entire states elsewhere around the country.
As noted in the Theis opinion, "Additionally, nothing in the ordinance indicates that the proceeds generated from the ammunition tax must be specifically directed to initiatives aimed at reducing gun violence. Thus, we hold the tax ordinances are unconstitutional under the uniformity clause."
Remarkably, a nearly-identical gun tax was upheld by the Washington State Supreme Court after it was adopted by the anti-gun City of Seattle in 2015. That tax brought a lawsuit filed by the Second Amendment Foundation, National Rifle Association and National Shooting Sports Foundation.
The gun rights organizations contended the tax violated Washington's 30-year-old firearms preemption statute because it was a form of gun control. But the liberal state Supreme Court ruled the tax was legal under Seattle's ability to create taxes.