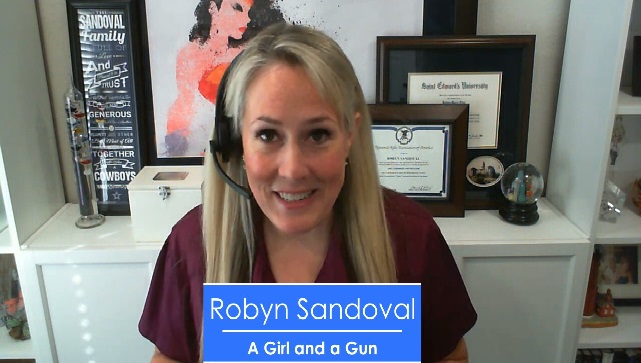 By Paul Lathrop | Contributing Editor
Robyn Sandoval, executive director of "A Girl and a Gun" Women's shooting leagues, told The Daily Bullet podcast that in the years since the movement started in February 2011, it has grown to involve more than 200 shooting ranges nationwide.
Along the way, Sandoval went through a personal transformation, from being anti-gun to becoming one of the leaders in the gun rights movement.
"For me," she recalled, "it was when I was watching the aftermath of Hurricane Katrina when we saw a modern American city become completely debilitated overnight. There was devastation, destruction, theft, violence, and families were really left on their own. As an anti-gunner that was kind of a foreign concept to me that you could really be on your own and that no one was coming. The protection of your family fell solely on you."
"It was the moment that I saw a mother getting on a bus at the Superdome, she handed her children to a stranger getting on a bus to Houston and said 'Please take them, I'll try to find you in a few days'," she added. "They thought it was the end of the world, how quickly things can fall apart. It broke my heart. I turned to my husband and said 'What do I have to do to so that's never me? So that no matter what happens we can hunker down as a family and can stay together.'"
Sandoval described starting to gather food and other preparations, but her husband reminded her that if they had food in a lawless situation that someone could just kick in the door and steal their food.
"I had always thought of my home as a gun-free zone," she said, "and it never occurred to me that my home would only be a gun-free zone so long as no one brought a gun into my home. That wasn't in my control. What was in my control is how I could be able to respond to that incident."
"A Girl and a Gun" was launched when Juliana Crowder was looking for a way to bring more women to the range. Crowder started hosting happy hour events at an Austin Texas gun range every two weeks. Sandoval became involved when she came to the third event. as a brand new gun owner. Since those humble beginnings, the program has grown into a national effort.
The largest gathering the organization has is its national conference every spring. Each year 450 participants and staff travel from around the country to take part.
Sandoval explained, "We do live-fire training on pretty much every topic that you can think of. Pistols, rifles, shotguns, defense. Competition, long-range precision, we even shoot out of helicopters! Anything you can think of we do it."
This year the conference was forced online only because of Covid-19. She lamented, "It was really heartbreaking not to be able to do it in person this year. A lot of our instructors stepped up, many of them had never done a virtual training course before, and we kind of tackled it together."
A Girl and a Gun Can be found at www.agirlandagun.org there are chapters in most states and an e-chapter that covers the whole country.