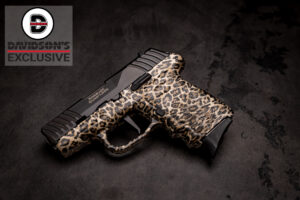 Davidson's, a leading firearms and accessories distributor, has partnered once again with SCCY Industries to bring to market a new exclusive.
This exclusive Davidson's SCCY DVG, chambered in 9mm, has a striking cheetah dip print finish on the entire frame.
Unlike the majority of SCCY's line, the DVG is a striker-fired pistol. It comes equipped with a flat-faced trigger that has an average 5 ½ pound trigger pull, and offers the user a consistent, clean and crisp break on each shot.
The DVG series incorporates the Roebuck Quad-Lock system, invented and patented by SCCY owner Joe Roebuck. The Quad-Lock system is a technology that locks the barrel to the slide in four distinct areas (rear of the chamber, front of the chamber and two adjacent points at the front of the barrel). The Quad-Locking of the barrel and slide joins the two components into one solid piece to improve accuracy by ensuring that the barrel returns to the exact same location every time. While locked in battery the pistol will not allow any side to side movement of the barrel, allowing for repeatable accuracy shot after shot.
SCCY's polymer-framed sub-compact DVG line has a finger-grooved grip, flat-top slide, iron sights, and a 10+1 round capacity. The sight cuts on the DVG are compatible with Glock 43 sights allowing the end user to customize the sights to their liking, taking advantage of a huge aftermarket.
The slide has a scratch-resistant black nitride finish with cocking serrations both front and rear. The barrel is 3.1" long with an overall pistol length of 6.01". The DVG weighs in at a svelte 15.5 ounces.
Two magazines are included – both with fingertip extension floor plates.
While obviously intended for the concealed-carry market, the SCCY DVG Davidson's Exclusive cheetah dip finish is an eye-catching option for dealers to stock in their showcases and offers consumers an attractive alternative.
MSRP is $359.99.
For more information, dealers can access our Communications Center at www.davidsonsinc.com.
Consumers may visit our blog on GalleryofGuns.com.