Review by Larry S. Sterett | Contributing Editor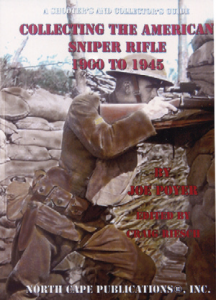 COLLECTING THE AMERICAN SNIPER RIFLE 1900 to 1945, by Joe Poyer. Edited by Craig Riesch. ©2013.
Published by North Cape Publications, Dept. TGM, P. O. Box 1027, Tustin, CA 92781-1027, Price: $22.95, plus $4.25 shipping. Phone: 800-745-9714.
This large 160-page softbound tome is the latest in the North Cape "Shooter's and Collector's Guide" series, and the first of a two-volume coverage of the subject. It is devoted to the sniper variations of the Model 1903 Springfield, including the versions with the Warner & Swasey Telescopic Sight, Winchester A5 or Lyman 5A Telescopic Sights, the M1903A1 (Sniper) USMC rifle with the 7.8x Unertl Telescopic Sight, and the Model 1903A4 (Sniper) with the Weaver M73B1 Telescopic Sight.
It does not contain information on sniping tactics or techniques, as might be found in Paladin Press books, but concentrates on the rifles and scopes and their identifying features. (The second volume will be devoted to sniper variations of the M1 Garand, M14, the Army (M24) and USMC (M40) adaptations of the Remington Model 700, and others.) In addition to the meaty five chapters, this volume features five appendices, 17 tables, and a dozen sidebars.
It is lavishly illustrated with black and white photographs, including many close-up views of specific features, plus a full-color page shot of the four basic Model 1903 Springfield sniper rifles.
(Model 1903 was probably the most accurate sniper rifle of its era, even though German and Russian snipers may have accounted for larger numbers of the enemy using their Mausers and Mosin-Nagant rifles, respectively. It's tough to beat a Springfield.) For collectors or devotees of World War II military history, this is a great book to have on your reference shelf. In fact, it may be the only one of its type.