Review by Larry S. Sterett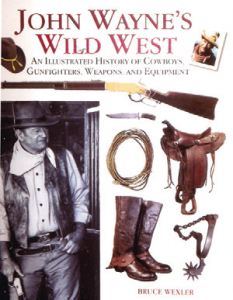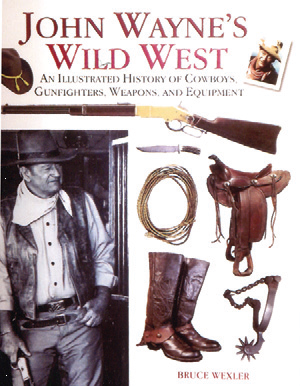 Contributing Editor
JOHN WAYNE'S WILD WEST, by Bruce Wexler. ©2010. Published by Skyhorse Publishing, 555 Eighth Avenue, Dept. TGM, New York, NY 10018.192 page, hard cover. Price: $19.95, plus shipping. Available at most bookstores, or online at: skyhorsepublishing.com.
Sub-titled "An Illustrated History of Cowboys, Gunfighters, Weapons, and Equipment," this 192-page hardbound volume presents a picture of the old West in America in its heyday. Big cattle drives, battles with Indians and outlaws, and more, not as John Wayne lived it, but as he often portrayed it in his movies. At least it's the way we like to believe it was, even if it may be a bit romanticized.
Following a brief introduction this tome is divided into eight chapters, beginning with "Guns of the Wild West," and finishing with "Classic Western Characters." This final chapter's title may be a bit misleading, as it is devoted more toward the gamblers and "ladies of the line" than gunfighters, etc. The second chapter, "towns of the Old West," includes coverage of some of the gamblers, but more of the lawmen, such as Wyatt Earp and the "Hanging Judge"—Judge Isaac Parker. (During his tenure, Parker tried 13,490 cases, secured 9,454 convictions, and sentenced 160 men and women to hang. Seventy-nine of the hanging sentences (52%) were implemented, 60 of them by George Maledon, the "Prince of Hangmen." Maledon shot two others who attempted to escape.
This volume lives up to its sub-title.
It is lavishly illustrated with more than 250 color and black and white photographs, including period photos and modern. (There are more than a dozen photographs of John Wayne as he appeared in various roles.) Rifles, shotguns, revolvers, derringers, holsters, saddles, knives, hats, etc., are presented. Not all the various brands used in the West are illustrated, as most of those shown lean toward Colt, Smith & Wesson, Winchester, Remington, Sharps, and Spencer models, along with a few of the lesser known brands. No Greener shotguns or Merwin & Hulbert revolvers were noted, although both Parker and Roper shotguns are illustrated, along with a Hopkins & Allen XL revolver and a number of others.
No book relating to John Wayne would be complete without a mention of the Alamo, and chapter five is devoted to this subject.
Naturally, the movie is mentioned, but coverage is also provided to the armament considered to have been in use in 1836.
Chapters six and seven are devoted to the Civil War and the Indian Wars, respectively. Major battles are not detailed, but many of the types of arms used are illustrated. Custer is mentioned, and a bit of confusion could occur here regarding the 7th Cavalry.
The statement is made that at the Little Big Horn 52% of the regiment fell. Probably, reasonably close. On the following page the statement is made "Every man and horse of the 7th that fought at the Little Bighorn perished at the scene." Not true. Custer had divided his command into three parts just prior to the actual contact. Those placed under Major Reno's command started the attack at one end of the Indian encampment, while Custer took his third and headed toward the other end of the village. Only those members of the 7th actually in Custer's group were actually wiped out, with the exception of the horse, Comanche.
Even if you are not a John Wayne fan, this is an interesting book to have on your reference shelf. The chapters are short, the illustrations are excellent, and while there is not an extensive amount of detail provided, it's sufficient for the type of book.