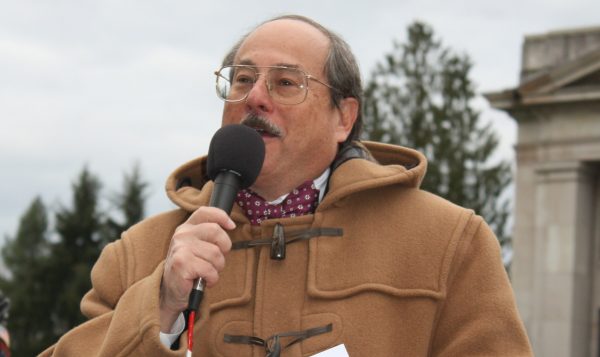 By Dave Workman
Editor-in-Chief
Capitol Hill Democrats have resurrected legislation aimed at spending millions of dollars on "gun violence prevention research" in response to the Nashville school shooting, but a leading gun rights organization is calling it a "boondoggle" and suggest the money would be better spent in efforts to make schools "hard targets."
Massachusetts Sen. Ed Markey and Michigan Congresswoman Elissa Slotkin have reintroduced the "Gun Violence Prevention Research Act," which would earmark $50 million annually for five years, for research by the CDC. But the Citizens Committee for the Right to Keep and Bear Arms is calling it a ruse by Democrats "to make it appear they're doing something."
CCRKBA Chairman Alan Gottlieb issued a statement Thursday asserting, "That $250 million would be far better spent supporting local districts to hire armed school resource officers, improve school building security, and/or provide funding to local police agencies for personnel whose job is to protect schools."
He said CDC research would have predictable results.
"Experience tells us (this research) will result in recommendations for additional gun control, while not preventing a single crime," Gottlieb insisted. "Democrats want to sit around for the next five years pontificating about nasty-looking guns while parents, teachers, and local law enforcement want action now.
"Why spend five more years on unproductive research which," he contended, "we all know will ultimately recommend more research? It translates to job perpetuation for bureaucrats who do nothing while our schools remain vulnerable soft targets."
According to Fox News, Markey admitted to reporters, "We know this is not a panacea, but it's a piece of the puzzle that for 20 years was barred because knowledge is power." He accused others on Capitol Hill of being "acolytes" for the National Rifle Association by voting against such research.
But CCRKBA's Gottlieb says there has been enough research. The time to act is now, he asserted.
"Capitol Hill Democrats didn't learn a thing from Nashville," he said, "while the rest of the country learned a lot. We were reminded that a swift response by well-trained, courageous officers produces a quick resolution to a murderous incident. We learned immediate action by boots-on-the-ground cops works far better than standing around outside wondering what to do next, while the sound of gunfire echoes through school hallways. And, we saw that a deranged killer taken down decisively is not going to harm anyone else."
As earlier reported by TGM, bodycam video footage released by the Nashville Police Department shows a rapid response by Nashville police officers Rex Engelbert and Michael Collazo, both of whom fired at Audrey E. Hale the 28-year-old woman who fatally shot three 9-year-old children and three adults at the Covenant Presbyterian school on Monday.
Nashville Police Body Cam Footage Released; Public Praises Hero Cops
Less than four minutes elapsed from the time officers entered the school to the time the suspect had been fatally shot. Hale has been described as a transgender female who was being treated for some unspecified emotional problem, but she had no criminal record and was able to legally purchase all of her firearms at Nashville area gun stores, passing background checks in the process.
"We know there's a mental health crisis, not a gun crisis, and we don't need more research to prove it," Gottlieb said. "Let's spend the taxpayers' money where it will do the most good. While we improve the mental health services we already have, use this proposed $250 million to harden our schools and protect the soft, innocent lives inside."
Tempers have flared on Capitol Hill as the debate over gun control has returned to the spotlight. As reported by USA Today, Rep. Jamaal Bowman (D-NY) began shouting at Rep. Thomas Massie (R-KY) in the hallway outside of the House chambers, calling House members "cowards" for not rushing through more gun control legislation.
"They're gutless," he declared.
"You know, there's never been a school shooting in a school that allows teachers to carry," Massie countered.
Bowman wasn't deterred, and he continued his attention-getting rant.
Meanwhile, Rasmussen Reports released a survey Thursday showing 51 percent of likely voters think "stricter gun control laws would help prevent shootings like the recent one in Nashville." Forty-two percent disagree.
However, the same survey revealed 50 percent of voters "say it is not possible to completely prevent mass shootings."
The survey also underscored the stark contrast between Democrats, Republicans and Independents on this issue. According to Rasmussen, 74 percent of Democrats and 47 percent of Independents think stricter gun laws are the answer while 67 percent of Republicans think otherwise, along with 43 percent of Independents. Only 19 percent of Democrats don't think stronger gun laws will quell the violence.