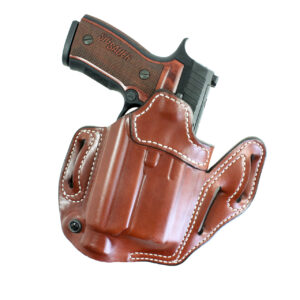 The Vengeance™ Scabbard, #201, is an untraditional open-top pancake-style OWB holster, new from DeSantis Gunhide.
It is made of native US full grain steerhide and features three belt slots for multiple carry positions. Its adjustable tension device allows for a custom retention level. 
This holster will now accommodate the Sig P320C and P250C with Streamlight TLR-1 or Surefire X300 and with or without red dot sight.
The wraparound band at the top of the holster provides additional strength and aids in re-holstering. It's now available for many popular weapons and light combinations. MSRP is $94.99