By Joseph P. Tartaro | Editor Emeritus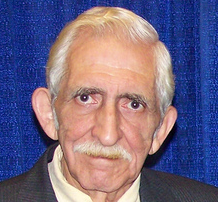 (Editor's Note: There is no small irony in the timing of this article and the upcoming Memorial Day holiday when the nation bows its head in memory of servicemen and women who made the ultimate sacrifice to protect our freedoms. How many of those fallen heroes turned the pages of Stars & Stripes, and maybe even saw their names or places they served and fought? Mr. Tartaro penned this article for wide distribution to Op-ed pages across the country.)
Maybe it's Gen. George Patton's ghost's revenge, or maybe it's the staff officers' final resolution of an old problem.
Either way, the Department of Defense's failure to request funding for the venerable military newspaper Stars & Stripes is likely to close out a storied, uniquely American, journalistic and military history.
The $704.5 billion Armed Services budget currently before Congress does not include a single penny to renew the $15.5 million appropriated last year to partially fund the servicemen's and women's prime source of information. The Pentagon's Defense Media Activities division has taken a pass n the issue and the DoD has already informed the Army and Navy that there will be no more active duty service people assigned to Stars & Stripes. Without the funding, the military's newspaper will most likely shut down, or at least be significantly downgraded.
Then again, the problem may be a lack of military confidence in the future viability of print publications, but even web publishing requires an editorial staff.
With its origins linked to Illinois Union troops in Missouri during the Civil War, Stars & Stripes was given new life in World War I at the urging of Gen. John Pershing. After a peacetime hiatus, it flourished during World War II and the Cold War in a continuing European edition. The Pacific Stars & Stripes edition was added in 1945.
Besides its current print editions—European, Middle East, Korea and Pacific—Stripes now also has an online edition. All have enjoyed great popularity with the men and women serving our nation around the world. Not only does Stars & Stripes provide world news and in-theater information, it creates a link to hometowns in America.
Cartoons published in Stars & Stripes as well as some news stories have been a source of some controversy in the military over the years. Patton was so incensed by Army Sgt. Bill Mauldin's non-regulation "Willy and Joe" cartoons that he tried several times to cashier Mauldin and stop their publication. Only the intervention of Supreme Allied Commander Dwight Eisenhower put an end to Patton's censorship efforts.
During the Korean War, when I was on the staff of Pacific Stars & Stripes, the Troop Information and Education section of the Far East Command routinely censored stories, including even one Red Smith sports column that made a reference to the West Point cribbing scandal.
In 1953 another cartoon caused indigestion among some of the brass. That was "Beetle Bailey," but it survived censorship attempts. Now Stars & Stripes is editorially independent. Today some 2 million readers access the print and online editions of Stripes without any censorship.
I once got an endorsement of the newspaper's value from a Vietnam veteran. While relaxing in a hotel lobby a few years ago I was wearing a sweatshirt with a Stars & Stripes logo on the back. A gray-haired Vietnam veteran approached from behind me and tapped me on the shoulder.
"That was my newspaper in country," he said beaming. "Thanks for your service," before he walked on.
Perhaps he and thousands of other veterans from World War II, Korea, Vietnam, Iraq, and Afghanistan as well as those currently serving will share their views with Congress about the value of the military's future investment in continued funding support for Stars & Stripes. And maybe a member of the House or Senate will offer an amendment to the 2021 Defense Appropriations bill totaling $704.5 billion to restore the $15.5 million in partial funding for Stars & Stripes operations. Considering the enormity of the Defense Department's funding request, $15.5 million to ensure Stars & Stripes continuity for the troops would be a drop in the bucket.
Joseph P. Tartaro, is a retired journalism and advertising executive who served on the Pacific Stars & Stripes editorial staff as an Army enlisted man from 1952 to 1954.