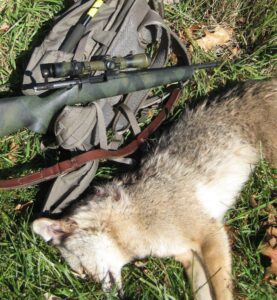 By John Markwell | Contributing Editor
Although Winter officially begins on Dec. 21, here in the Alleghenies it starts just after our two-week buck season ends on the first Saturday in December.
Many folks clean and stash their guns during Winter missing out on some of the best hunting during what many consider the prettiest time of the year to be afield. Here's a look at what's available to you, what we Mountaineers hunt in the winter, and some of the guns and stuff that we use; some common and some a bit different.
Our son, Brock raises Beagles and loves chasing both Cottontails and Snowshoes with them. The seasons run from Nov. 6 through the end of February. Weather, once we hit January, can range from the occasional sunny and balmy day in the 50-degree range to downright brutal sub-zero arctic conditions in the high country where the Snowshoes hang out. Over the years we've used everything from the ubiquitous shot gun (20-gauge and .410-bore preferred) to .22 rimfire rifles for rabbit hunting with the hounds. An AWC suppressed Ruger 10-22 is just perfect for this.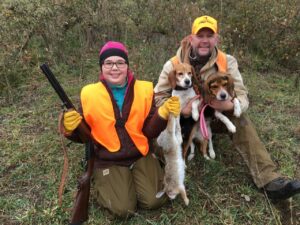 On occasion we've also used a handgun; either .22 Long Rifle or, more recently, our Kimber Rimfire 1911 chambered for the .17 Mach2 cartridge (which is also the most fun gopher gun ever). Our granddaughter Ella uses a svelte little .410 over & under Stoeger Condor youth model to good effect on rabbits. Although maybe a bit odd, we intend to try and bag a bunny or two with our Smith & Wesson Model 631 Kit Gun revolver in .32 H&R Mag. with 100gr cast lead bullets. We have until Feb. 28 to do it.
Squirrel hunting is a southern tradition and a squirrel stew with Chestnuts is a true delight. Whether one uses a shotgun, a rimfire rifle (our preference) or a handgun, many states have seasons that run into February and bag limits are generous. Here in West Virginia the season stretches to Feb. 28. Whether one shoots .22 Long Rifle or Mag. or one of the .17 caliber rimfires, we consider hunting squirrels with a rifle truly sporting and the best practice for the rifleman. Shots are sometimes fleeting and positions are varied. If one wants to stay sharp for big game season, hunting squirrels with a rimfire rifle similar to one's big game rifle in the "off season" is great training and provides great fare for the pot. Should you need a real winter challenge go after squirrels with a rimfire handgun.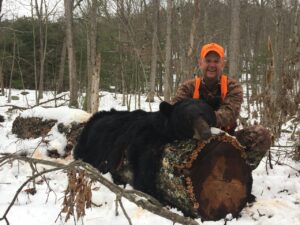 Depending on where one lives, upland birds offer great hunting opportunities for the hunter willing to brave the cold. Ring-necked pheasants, quail and ruffed grouse seasons often run into February. Although a good dog or two makes the hunting of the latter especially much easier, walking up birds with a fine shotgun in hand is one of the greatest of outdoor experiences. Our son Brock still uses his grandfather's 20-gauge L.C. Smith (purchased after WWII) for upland birds and some rabbit hunting as well.
Here in the Allegheny Mountains the last big game hunting of the year is our late bear season which starts the day after deer season closes and runs to Dec. 31. This is the season the hound men live for. Like many states, West Virginia has way more bears than one would think and given any kind of good early winter weather hunters harvest a lot of bears. There were 3,541 black bears killed by hunters in the state in 2020. The group with which Brock hunts took eight bears off of one large piece of property before noon one day in 2019 and Brock's buddy, Mike killed one that weighed 604 pounds. Many of the treed bears are killed by young hunters, first timers, or older hunters when treed by the hounds. But, "Standers" also have a good chance for a shot while the chase is on. Rifles used for bears run the gamut in caliber from .223s shooting good bullets like Barnes' X Bullets or Nosler Partitions up through the normal big game rounds.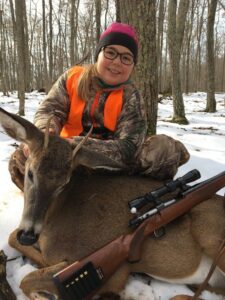 People who follow the hounds (the young and fit) prefer to carry handguns as they often have to deal with a bayed bear on the ground. The .44 Magnum revolver (in a chest or shoulder rig) is probably the number one gun and caliber of choice. However, the 10mm, in either a Glock 20 or 1911 pistol, shooting 200 or 230-grain hard cast WFN bullets has been gaining favor in recent years. Ammo by Double Tap and Buffalo Bore are the preferred brands for the .44Mag. and 10mm, driving those hard bullets with their large meplat straight and deep when necessary. Brock will be using the Dan Wesson Bruin Bronze 10mm 1911 for his bear chasing pistol this winter. We have loaded a 200-grain WFN GC bullet from Montana Bullet Works over 12.5-grains of AA#9 in new Starline cases for a velocity of 1,262 fps mirroring the Commercial hard cast loads.
For many hunters Winter means varmint/predator hunting; coyotes, foxes, bobcats and the like. And for those lucky enough to have them around (unless you are a farmer) hogs. Lots of folks spend their winter calling in 'yotes, foxes etc. It's great fun and also can provide a bit of extra income if fur prices cooperate. Rifle, shotgun or handgun are all suitable depending on terrain and conditions with small caliber lightly constructed bullets being preferred for saving fur for sale. Also, don't write off the common crow for winter shooting action. We keep a .223 rifle handy throughout the winter for varmint hunting and many folks keep their shotgun warm by calling predators in for close range shots.
Speaking of warm, don't forget to dress properly for the cold weather. A good base layer under several layers of light insulation topped by a shell of some sort can make or break a day afield in Winter. We prefer a mix of wool and modern synthetics for clothing and since our feet have always suffered in the cold, we wear white's Pac Boots with felt liners and heavy wool socks during most winter outings. Good gloves, mittens (or even a muff if just sitting) will keep your hands warm in most situations and one thing we've found to be invaluable is a good wool/synthetic scarf or a neck gaiter.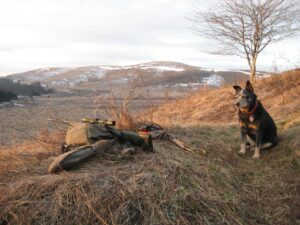 For folks that do not have easy access to local winter hunting opportunities there is always the great American pastime; The Road Trip! Several southern states have very long deer seasons (like South Carolina) and exotics abound on many of the ranches in TX and other south western states. Hogs are plentiful clear across the southern US and in some desert locales the little Javalina provides a challenging target. There are no seasons on exotics and most states allow hog hunting year-round. In TX you can even arrange a helicopter hunt for them. So, if you get tired of the cold winter and sitting by the fire consider a winter road trip with a couple of friends. You can maybe see some new country and experience a different type of hunt.
Finally, for the well-heeled there is always a trip to the southern hemisphere to escape the cold. Some areas of South America are known for incredible wing shooting and then there is Africa. A bit of research, and some money, could open up a whole new world of winter hunting opportunities.
So, don't write off Winter. Bundle up if necessary, but get out there; even if you have to travel. The fire will feel warmer when you sit down with a drink and the stories will get better with time.