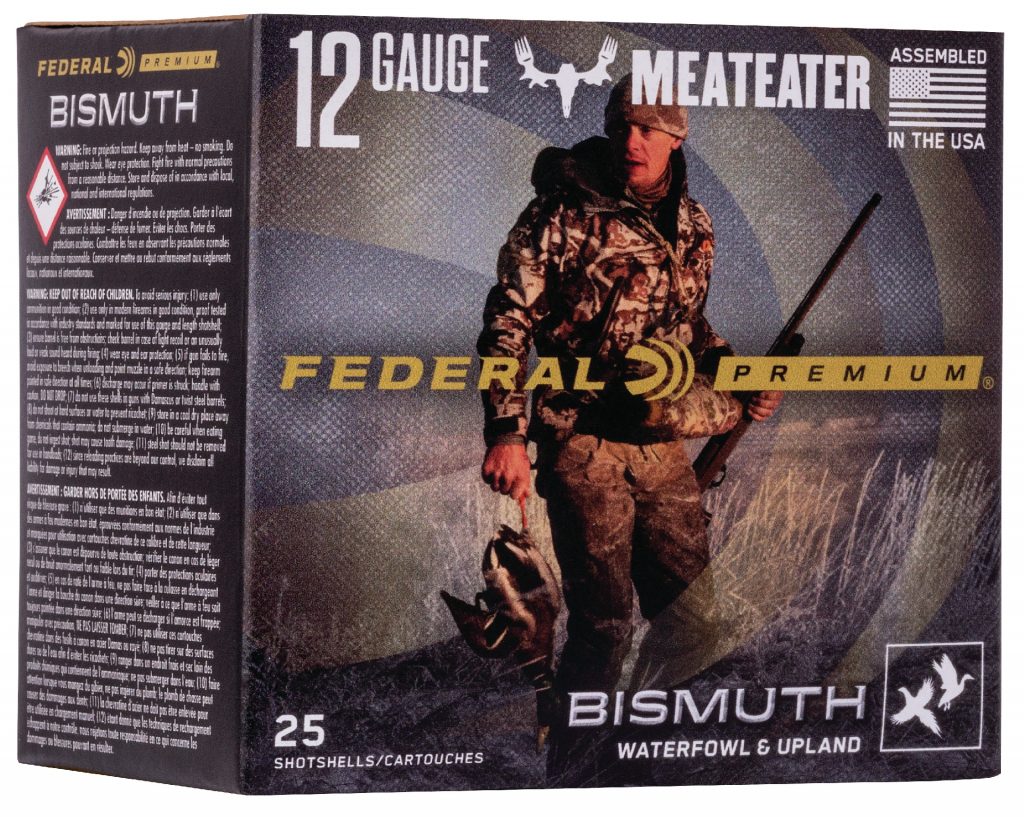 Bismuth for W'fowl and Upland, Plus .280 Ackley
If there's a hunter under your roof, Federal has something for that individual whether the game is on the wing or on the hoof.
Federal Premium has just announced new MeatEater loads, for shotgunners and in .280 Ackley Improved for big game hunters.
Let's start with shotshells: new Federal Premium Bismuth, the "freezer-filler shotshell ammunition of MeatEater's Steven Rinella, according to a company press release. This new line of ammunition features high-quality 9.6 g/cc density bismuth pellets. Its payloads pattern and hit birds like traditional lead, providing more killing power at longer ranges. Twelve cartridge options are available in the new Bismuth product line.
Options span from 12-gauge, 3- and 2 3/4-inch to 20-gauge, 3-inch in shot sizes of 3, 4, or 5. Shipments of this new product have begun to arrive at dealers.
"Memories and a meal are riding on every hunt," the Federal release noted. "No one knows this better than Rinella, who travels the world looking to put wild game on his plate."
Federal has partnered with the conservationist, author and hunter on this exclusive new line of Bismuth shotshell ammunition. Look for Rinella's photo on the box, along with one of his own mouth-watering wild game recipes.
"Our Federal Premium Bismuth's impressive ability to effectively harvest upland game and waterfowl, due to its dense material construction, is what our customers love about it the most. Bismuth is also legal on public lands for all upland game and waterfowl, so it is a popular steel-shot alternative," said Federal Shotshell Product Director Rick Stoeckel. "And as a bonus, Grandpa's old shotgun isn't limited to just the trap range anymore. It could be used on a hunt, without the worry of damaging it with steel shot."
Federal Premium Bismuth shot is softer than tungsten and steel, allowing use in older shotguns as well as modern guns. The loads' FLITECONTROL FLEX wad tightens patterns and increases lethality over comparable steel loads. This ammunition provides enhanced performance over steel that some waterfowl and upland hunters are seeking, according to Federal.
Best of all, it meets all requirements for non-toxic shot.
But there's more.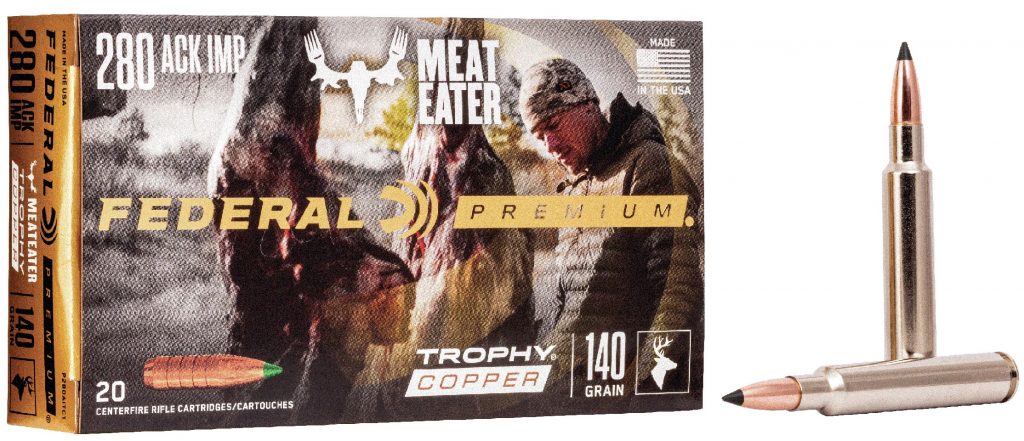 Fans of the classic .280 Ackley Improved should warm right up to the new entry from Federal in chat caliber. It's a Federal Premium Trophy Copper load, the latest addition to a 19-cartridge family with offerings ranging from .223 Remington and .243 Winchester to .300 Win. magnum and .338 Lapua Magnum, according to Federal.
New this year, the flat-shooting .280 Ackley Improved pushes a 140-grain copper boattail bullet with a polymer tip to deliver the accuracy and expansion the product line is known for.
MeatEater is a media company and lifestyle brand founded Rinella. MeatEater's passionate fan base is already well acquainted with the field to table ethos that is at the center of the brand's content, from podcasts and TV to articles and social media, Federal stated. To match that core value, every centerfire box of MeatEater ammunition will include a favorite recipe from MeatEater's experienced kitchen.
"I've used Federal Ammunition for most of my life because it's the best on the market," Rinella said. "Our whole team is excited to be partnering with the brand we depend on for quality and consistency in the field, which leads to quality and consistency in the meals we share with our families."
Trophy Copper loads provide pinpoint accuracy and aggressive expansion, yet the copper, polymer-tipped bullet retains up to 99 percent of its weight for deep penetration on a wide range of medium and big game.