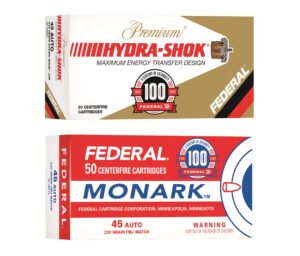 As part of the 100-year anniversary celebration, Federal Ammunition is releasing two limited-edition boxes of Federal handgun ammunition in throwback packaging.
The packaging honors classic Federal handgun products including 1960's-era Monark Match and 1980s Hydra-Shok, both in 45 Auto.
Though commemorative and collectible, the loads offer all the same features and performance as their modern Federal equivalents. The Federal Monark Match features a 230-grain full metal jacket bullet while the Hydra-Shok uses a 230-grain Hydra-Shok jacketed hollow point bullet.
"This retro packaging is a great way to celebrate the 100-year anniversary of Federal Ammunition," said Mike Holm, Federal's Product Director of Handgun Ammunition. "Loyal fans of Federal Handgun Ammunition will remember seeing these packages on the shelves from decades ago. These products make great collector items, or can be put to good use on the range."
Part No. / Description / MSRP
45A / Federal Monark Match, 45 Auto, 230GR FMJ, 20-count / $66.99
P45HS100 / Federal Hydra-Shok, 45 Auto, 230GR HS JHP, 20-count / $67.99
Shop products in 100th Anniversary today | Federal Premium
The special edition packaging is only available for purchase on the Federal Ammunition website. Search for part number or product description.
In addition to the special-edition handgun packaging, Federal is offering retro packaging for some centerfire rifle and shotgun products to celebrate the 100-year anniversary.
For more information on all products and online services from Federal or to shop online, visit www.federalpremium.com.