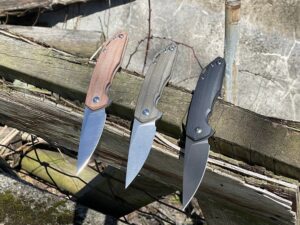 GiantMouse has introduced the new ACE Corta folding knife in Natural Canvas Micarta, Green Canvas Micarta, and Black G10.
The Corta draws inspiration from the limited edition GM6, which launched in 2019. Vox and Ansø repurposed the GM6 into a longer, lighter folder, more suited for the outdoors and everyday tasks.
The "Corta" (conjugation of "cortar," meaning "to cut") is a small stout flipper with a pointy but
strong blade that fires open like a rocket. The simple lines of the Corta are a nod to
Vox and Ansø's Nordic heritage. The flat saber grind, combined with the blade's sleek lines with
straight back and classic edge line, give the blade an almost fang like look.
The new ACE Corta features a Brass backspacer paired with a Böhler M390 MICROCLEAN stainless steel blade. Each version comes with a different blade finish – Green Canvas is stonewashed, Natural Canvas is Satin, and the Black G10 sports a PVD finish.
Blade length is 3.1" (78mm), measured from tip to forward-most aspect of the frame, and 0.138" (3.5mm) thick. The handle is 4.18" (106mm) long, giving the knife an overall length of 7.3" (185mm). The Natural and Green Canvas versions weigh 3.8oz (107.8g), and the Black G10 weighs in a little heavier at 4oz (113.4g)