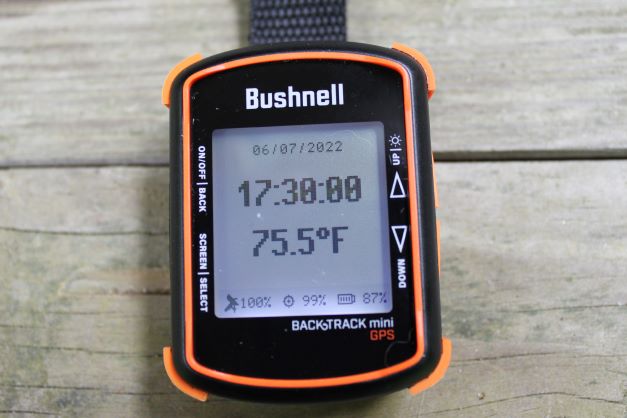 By Jim Dickson | Contributing Writer
Spring and summer are blooming forth and this is the time of the year when people venture out into the woods and national parks hiking, exploring, and sometimes getting lost.
Getting lost may not be a big deal to an old woodsman, but for someone from the city or suburbs it can be traumatic often leading to panic. Things tend to go downhill fast when panic sets in turning a minor mishap and inconvenience into a potentially life threatening scenario.
Enter the Bushnell Back Track Mini GPS. This gadget is a compact, waterproof GPS that measures only 2.54 inches high X 1.95 inches wide X .98 inches thick and weighs a mere 2.3 ounces including its tether and carabiner for attaching to your gear. I would recommend a drop of blue Loctite on the screw that attaches the tether as screws sometimes work out on their own.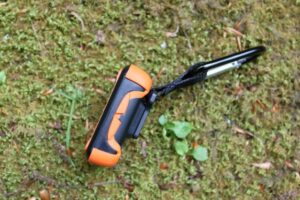 There is no excuse for leaving this compact tool behind. It is the computer age's answer to the problem of finding your way in the woods. At a maximum MSRP of $99.99 it offers simple navigation at an inexpensive price. It's so cheap and easily carried that you can get one for every member of the family.
The Mini GPS has a battery life of up to 34 hours on continuous GPS coverage. It recharges from any handy USB port. It has a durable plastic exoskeleton designed to withstand a 6-foot drop onto concrete so it can take most of the hard knocks of life in the back country. There are four control buttons marked on/off back, screen select, up and down. These are designed to be used with gloved hands in cold weather.
This little electronic device has lots of features. It's hard to believe that something so small and light could do so many things but it can. There is a built in compass with temperature, time, barometric pressure, and elevation. It has the ability to create and navigate a trip to and from your base camp. Optimum hunting and fishing times based on the phases of the sun and the moon are shown on it for the next seven days as well. It has easily configurable base points so you can mark your landmarks as needed. Guides and outfitters also use this to mark their tree stands so their clients can easily find their way back to camp. The screen can be lit up for use in the dark.
My wife, Betty and I hunted all the legal deer hunting hours going out before the first hint of daylight and coming back in the evening after dark so I can really appreciate this feature. The way back to your starting point is shown by an arrow directing you in a straight line to your destination. There is no map, but with that arrow as a guide, the user is able to circumvent intervening obstacles.
The North Georgia Smokey Mountains where I live is a convoluted maze of game trails, old Indian trails, and overgrown abandoned logging roads. Only the proverbial crow can easily traverse a straight line around here where the contours of the mountains force their own changes in your route. Having an arrow always pointing towards home is a good thing. If that was all this multifunction device did it would still be more than enough to justify buying it. Personally, I think a simpler, cheaper device with just this one function is a good idea.
There is a Bluetooth connection for a smart phone app so you have increased storage capacity. This also enables hikers and backpackers who want to share their trips with their friends to do so and share the way points on the trip. Never before has it been so easy to follow in another's footsteps. This little device easily takes the place of an expensive guide and, unlike the guide, it doesn't get lost. I will always remember one guide insisting "I'm not lost! But that mountain is in the wrong place."
Having a GPS is no excuse to leave compass and map behind to say nothing of the rest of the gear that is needed for prolonged woods survival. Things can go wrong and anything made by man will eventually break. Batteries run down and all electronic devices have a finite life. You should pack clothes and the means for making a shelter if the weather suddenly turns. A canteen and MRE's will keep you in food and water. A knife is essential for wilderness survival and an axe or at least a hatchet for wood cutting will definitely be needed in an extended wilderness stay.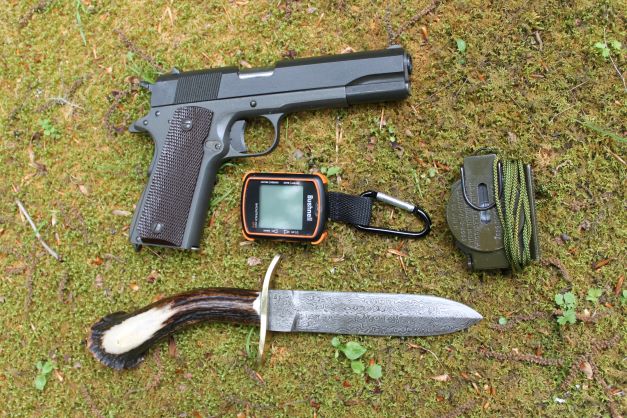 There is no substitute for a pistol when you need one. An emergency calls for an emergency survival tool, and in dire circumstances, a good sidearm might just be the right tool.
Note that it is legal to carry a pistol in the National Parks now so long as you comply with the state's laws that the park is located in.
If you are hiking without a firearm, at least pack a machete. The length of the machete and the force of its cut make it far deadlier than any knife on man or beast. If attacked by coyotes or wolves the old WW2 Collins 26-inch blade machete's reach will give you a significant advantage over the current Army issue 18-inch blade machete.
The only fault I can find with the new Bushnell Back Track Mini GPS is that it doesn't come with a hard copy manual. You have to go online to read the manual. While this device is super simple to those of the computer generation it is not so easy for old woodsmen who aren't into computers. A hard copy manual should definitely be in every box with this product.
Getting lost remains at the top of the worry list for most weekend woodsmen and casual outdoorsmen and women. The Bushnell Mini GPS can go a long way towards making those outdoor excursions safe and worry free on that count.