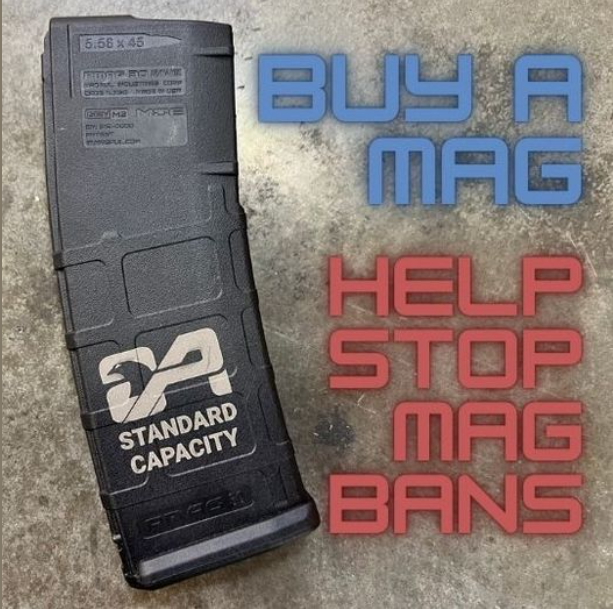 By Dave Workman
Editor-in-Chief
UPDATED: A Tacoma, Washington-based company that produces firearms and components has launched a magazine sales campaign to support the Second Amendment Foundation's legal battle against a new law scheduled to take effect July 1 that will ban the future sale, manufacture or purchase of so-called "high capacity magazines."
Aero Precision announced in its on-line advertising, "With the passing of SB 5078 we have partnered with the Second Amendment Foundation to help in legal battle against this unconstitutional law. The net proceeds from each of these magazines sold will go directly to the Second Amendment Foundation to help fund legal action to defeat this unconstitutional bill." SAF founder and Executive Vice President Alan Gottlieb told TGM Friday the program quickly caught fire, with magazines being ordered not just inside Washington State, but across the country.
Senate Bill 5078 was signed two months ago by anti-gun Democrat Gov. Jay Inslee. It was pushed through the Democrat-controlled Legislature earlier this year.
However, as previously reported, the law is being challenged in U.S. District Court by SAF and the Firearms Policy Coalition.
According to the Aero Precision advertisement, the company is selling 30-round Gen. 2 Magpul™ PMAG® magazines that are laser-marked "Standard Capacity" with a combined SAF and Aero Precision logo. The magazines are made from crush-resistant polymer and feature a self-lubricating follower "for increased reliability." They have USGI-spec stainless steel springs to resist corrosion.
Residents of most states can purchases these magazines from Aero Precision as a way to support SAF legal efforts, said SAF founder and Executive Vice President Alan Gottlieb. They are not being offered for sale to residents of California, Colorado, Connecticut, Hawaii, Illinois, Maryland, Massachusetts, New Jersey, New York, Vermont and Washington D.C.
Under the new law, Washington residents can continue buying magazines until the July effective date. Magazines owned prior to that date may be retained, although wary gun owners are concerned anti-gunners will simply come back in a year or two with more restrictive legislation to outright ban all original capacity magazines, which they maintain would be unenforceable because of the number of such magazines already in private hands.
Magpul magazines are built in the U.S. and they are popular after-market products that have become very popular with owners of modern semi-auto sport/utility rifles, such as the AR-15 and its clones.
Right now in the Evergreen State, there is a rush on magazine purchasing. The ban seems unenforceable because there will be no way to tell when someone may have purchased a magazine. They're not serialized.
The SAF challenge to this law has a pretty good foundation, since a similar ban in California was declared unconstitutional, at least for a while, and then restored by an en banc panel. The case is Duncan v. Bonta. The National Rifle Association has asked the Supreme Court for a review. Should the high court take this case, it might derail Washington's law.
The stakes are high because magazine capacity is almost certainly part of the Second Amendment fabric. Anti-gunners like to fall back on the argument that semi-auto rifles and pistols didn't exist at the time the Second Amendment was ratified as part of the Bill of Rights. The counter to that is clear. Radio, television, high-speed web offset presses, the Internet; none of these forms of communication existed when the Constitution was adopted, yet their existence is protected by the First Amendment.
The Bill of Rights is not a buffet from which people can select the rights they like and bypass rights they don't like. The BOR is a 10-course meal and like it or not, we all have to choke it down and leave room for dessert, which is the 14th Amendment with its equal protection provision.
SAF and its lawsuit partners will need every penny the magazine sale can garner, because the court challenge to Washington's law is going to take some time. Since SAF won the 2010 McDonald case against the Chicago handgun ban, resulting in the incorporation of the Second Amendment to the states via the 14th Amendment virtually every legal action against state gun control laws has been made possible. Without that ruling, it would have been difficult to challenge any of these gun laws on federal constitutional grounds.
Perhaps within days, and certainly by the end of this month, the Supreme Court will hand down a ruling on right-to-carry, the case of New York State Rifle & Pistol Association v. Bruen. Depending upon how far it goes, the next big hurdle will be to determine whether modern semi-auto sport/utility rifles are protected by the Second Amendment. To the firearms community, it would seem ludicrous to argue they are not protected, and such a ruling would almost certainly have to include magazines for those rifles in their original capacity versions.