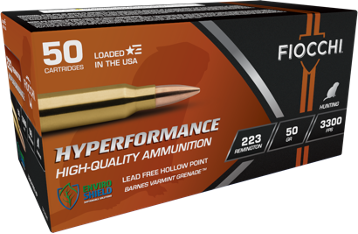 Fiocchi, a producer of defensive, target, and hunting ammunition, has added yet another specialized cartridge to its growing line of dedicated hunting ammo.
New for the Fiocchi Hyperformance Hunt series is a .223 Remington cartridge designed for "lights out" performance on varmints, the company said in a news release.
The new .223 Remington cartridge is built on the same foundation as all centerfire cartridges in the Hyperformance Hunt line—top-quality brass cases, reliable primers, carefully selected powder to ensure shot-to-shot accuracy, and precision-manufactured bullets that deliver expected terminal performance. What separates the Hyperformance Hunt .223 Remington from the pack is its lead-free hollow point projectile—part of Fiocchi's EnviroShield initiative.
The Hyperformance Hunt .223 Remington features the Barnes Varmint Grenade bullet. Based on a frangible copper-tin powdered metal core surrounded by a hollow point gilding metal jacket, the Varmint Grenade is designed to fragment quickly while delivering all impact energy into the target. The result is devastating terminal performance that typically leaves pelts relatively undamaged as the bullet rarely exits larger animals.
The new Hyperformance Hunt .223 Remington joins other Hyperformance Hunt centerfire rifle calibers, including .243 Win, .260 Rem., 6.5 Creedmoor, .270 Win., 7mm-08, .300 BLK, .308 Win., .30-06 Sprg. and .300 Win. Mag.
For more information about Fiocchi ammunition, visit FiocchiUSA.com.