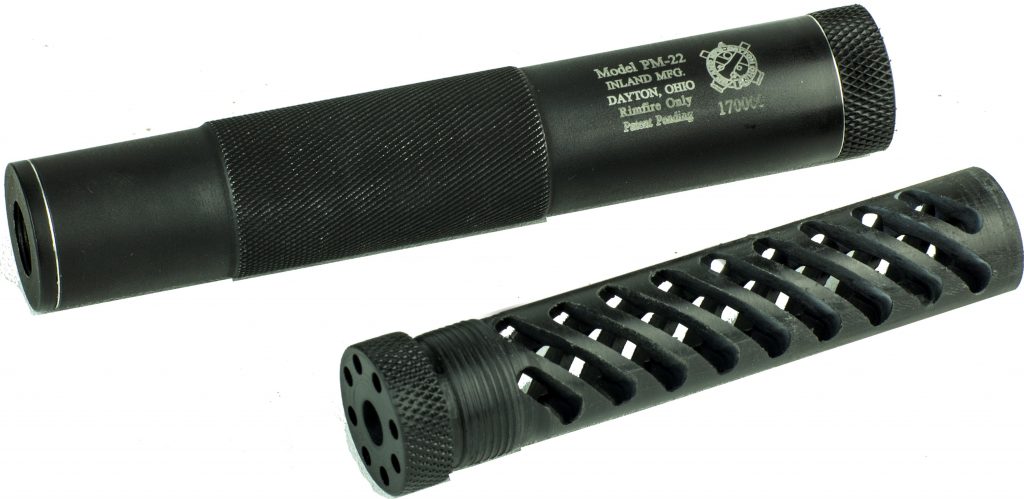 By Jim Dickson | Contributing Editor
Silencers for guns are like mufflers for cars; they reduce the noise a bit but they sure don't make it all go away.
Over the years I have had the opportunity to shoot some of the best and I still put my shooter's ear muffs on after the first shot or two to evaluate their noise level. Only in the movies do they remove all the noise. Their advantage is that they make your hearing protection that much more effective.
A good example is the silenced Barrett .50 caliber rifle I shot for the 2020 Gun Digest. The silencer reduced the decibel level from 180 decibels to 157 decibels, the same as a .45 ACP M1911A1. No one who values their hearing shoots a M1911A1 without hearing protection. Anyone who thinks a
.45 ACP M1911A1 is so quiet you can't hear it has never fired one yet this silencer is an NFA weapon because it is supposed to be that quiet.
What that silencer did was to reduce the noise by a whopping 23 decibels down to a more normal range that standard hearing protection is adequate to prevent permanent hearing loss. That's a very big deal for anyone not wanting to go through life with hearing aids. I might add that as decibel measure goes up exponentially I was afraid to fire the Barrett .50 at 180 decibels without the suppressor as I doubted that my ear plugs and ear muffs together could adequately protect my hearing at that level of noise. I simply would not fire it without the suppressor and I had my shooters ear muffs on even with the suppressor just as I do when shooting a .45 automatic.
This is a sore spot for me because all my old friends had hearing loss from gunfire. They were shooting in the days before hearing protection was commonly available and suffered the consequences. The only reason I escaped damage was because I had very sensitive ears and from the time I was a small child I was stuffing Kleenex or whatever in my ears so they would not ring from the gunshots.
It is a gross mistake to think that modern hearing protection ended the problem. No one ever seems to have it in when they are hunting and when I look at all the deaf old bird dogs I have seen over the years I realize that not using silencers can constitute cruelty to animals as well. A silencer on the gun is the classic solution. On most calibers it will bring the decibel level down to a relatively safe range even though you would still be well advised to wear your hearing protection when practicing.
Getting back to the bird dogs most people are not aware that you can buy shotguns with integral silencers on them for hunting in England. They are very popular there. The rest of the world looks on silencers the same way they look on car mufflers. They are noise abatement devices to prevent disturbing the peace. In many places in England, Europe, and Africa you cannot get permission to hunt without a silencer on your gun. It's just good manners to have one.
There is another humane reason for using them. Silencers are the most efficient muzzle brake possible as they trap the escaping powder gasses and have them all pushing forward greatly dissipating recoil. The result is even an 8-year-old can now easily handle a 30-06. There is no longer an excuse for giving women and children pipsqueak calibers that allow wounded animals to escape to die a lingering death. Not only is that cruel it can turn the new hunter against hunting faster than anything. If you are shooting a heavier kicker like a .375 H&H Magnum or a .416 Rigby life just got a lot more pleasant. Your shooting will probably be better as the impulse to flinch will be abated and you will be able to shoot a whole lot more ammo at one time. That is critical to developing skill with the rifle that you are depending on. It should be noted that muzzle blast can be as big a factor in flinching as recoil.

The silencer typically increases the accuracy of the firearm it is mounted on by canceling out much of the harmonic vibrations that occur when the gun is fired. So you shoot better and so does your gun.
Most silencers reduce the decibel level somewhere between 20 and 35 decibels, roughly the same as your typical hearing protection of ear plugs or ear muffs. Using a silencer with the standard hearing protection roughly doubles your protection and that's a very fine thing.
It's important to educate the public that silencers do not make guns quiet. The decibel level of a good silencer on a .22LR can reduce the noise level to that of a jackhammer, 110 decibels, or an ambulance siren, 120 decibels. Does anyone think a jackhammer or an ambulance siren is quiet? If they do their hearing is already gone. OSHA says 140 decibels is the point where you can get hearing damage instantly.
Rifles without silencers range from 165 to 170 decibels and even the .22LR has 145 decibels. A good suppressor can bring that down to as low as 130 to 140 decibels. That's still an awful loud noise but an enormous improvement over a gun without a silencer. The benefits to hearing protection are obvious as is the loud noise in the real world with silencers as opposed to the fantasy world of movies and TV which, unfortunately, is where everyone seems to get all their ideas about silencers. The tiny inch long silencer the bad guy in the movies screws onto his snub nose revolver which then only has the sound of the hammer snapping is as far from reality as Godzilla trampling Tokyo. Until we can educate people to that fact the anti-gun propaganda of Hollywood will continue to be believed and people and their hunting dogs will continue to loose hearing.
It is vital that all the regulations on silencers be removed. Many people are afraid to own anything covered by the National Firearms Act. They are afraid of the government and overzealous law enforcement officers and how they might react to the sight of them. These fears are not without justification.
For those who think that controlling silencers cuts crime let me point out that they have rarely been used in crime. With America's porous borders admitting a steady flow of illegal drugs and illegal aliens, illegal silencers would be coming across also if there was a market for them.
Still the penalties for making or possessing an illegal silencer are too severe for anyone to want to risk. That's why we have to take all the restrictions off them and treat them as the sound mufflers for protecting hearing that they are. Until then they will remain too high priced, too much trouble, and too much a perceived threat to their owner from law enforcement for the average man to ever take advantage of the best hearing protection a shooter can have.