By Art Merrill | Contributing Editor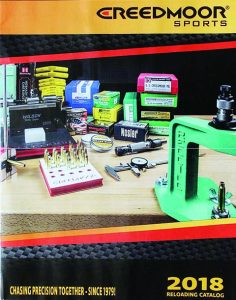 Creedmoor Sports was almost 10 years old when I started shooting Highpower and Long Range competition. Though the Navy loaned the National Match M-14 rifle and a few basic essentials, we shooters on the team had to provide anything and everything else out-of-pocket unless we elected to use well-used hand-me-downs that probably should have gone to Salvage. If you've ever borrowed someone else's too-large shooting coat crusted over with a decade of dried, glass-hard, spray-on Rifle Grip, you understand the desire to upgrade a bit from issue gear. The team captain handed me a dog-eared Creedmoor Sports catalog along with the worn-out stuff, and that company has been my major resource for all things competition since Reagan was a lame duck.
And I'm far from alone on this. Go to any Highpower match – or Smallbore, Fullbore, Palma, Midrange or Long Range match, for that matter – and you'll see Creedmoor Sports gear dominating the firing line because they've got stuff that works. At some of these matches I see company General Manager Dennis DeMille casually strolling the length of the line. Though often stopping to shake hands and chat with competitors, I suspect he's surreptitiously checking out everyone's gear in a subjective survey of what shooters are using. Because Dennis also competes (he's a two-time Highpower National Champion), he stays on top of the latest ideas, making Creedmoor Sports a lead developer of competition gear. As an example, Dennis and Hornady teamed up to develop the 6.5 Creedmoor cartridge, which in one short decade has become de rigueur in precision long range shooting.
About the same time (go figure), Creedmoor Sports expanded into selling brand name match grade ammo such as Hornady, Lapua and Norma, then brought out its own line of match grade stuff utilizing highest quality components. Now the company has expanded again to offer competitors some of the best tooling available for handloading their own match grade ammo.
New in the Creedmoor Sports 2018 catalog we find tools from names that are synonymous with precision reloading, including some you know, like Redding, Forster and Wilson, but with others you may not, such as Harrell, K&M, Starrett and Whidden. These are all makers of high-end reloading tools used by the Seekers of the One Hole Group, including esoterics like Redding's undersize decapping pins, AMP's heatless tabletop annealing machine, Hornady's concentricity tool that corrects bullet runout to zero, and Starrett's electronic micrometer with a resolution down to 0.00005 inch. A loading block can be a slab of wood with some holes drilled in it, or it can be Creedmoor's thrice-easy .223 and .308 synthetic loading blocks that have beveled holes for easing brass in and out, grooved sides for easy grip and are dishwasher safe for easy cleanup.
Beyond now offering reloading stuff, Creedmoor Sports introduced a couple of new range goodies this year. Their folding Bench and Field Shooting Mat adds ½ inch of padding for the elbows and comes in a remarkable selection of colors and patterns not found in nature, as well as the usual green. Just in time for the Highpower rule change permitting scopes on Service Rifles, Creedmoor trots out their Scope Kennel, which serves as both a cover for the mounted scope, and as a carry handle for the rifle.
Creedmoor Sports has improved their famous, custom-fit, seriously competitive Hardback shooting coats with spandex in the inner elbow and a larger rubber pad for the support elbow in offhand shots. And just so I don't sound totally like a Creedmoor Sports cheerleader, I will say that Mr. Curmudgeon looks askance at their custom shop apron, regardless of a center-chest cellphone pocket and M.O.L.L.E. belt of dubious usefulness (Really? A tactical apron?). Others, however, may think that's the cat's patootie, and Mr. Curmudgeon can go back and sit on the porch, thank you very much.
Current customers apparently received a 2018 reloading catalog in the mail (at least, they sent one to me); lacking that, you can view the entire Creedmoor Sports catalog online at www.creedmoorsports.com/. If you're serious about itty bitty groups or serious about competition or serious about having shooting fun, the 2018 Creedmoor Sports catalog is definitely worth a look.