Review by Larry S. Sterett | Contributing Editor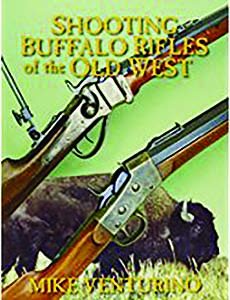 SHOOTING BUFFALO RIFLES OF THE OLD WEST, by Mike Venturino. ©2018. Published by Wolfe Publishing Company, Dept. TGM, 2180 Gulfstream, Suite A, Prescott, AZ 86301. Price: $30 plus $3.75 for shipping. Available direct, or at some bookstores.
This 1/2-inch thick magazine-size softbound 286-page volume is one of the few on the subject, if not the only one. Divided into four parts, beginning with The Rifles and ending with Miscellaneous, it covers 33 topic areas. It also contains an introduction, a description of what constitutes a buffalo rifle, understanding buffalo rifle cartridges, a two-page bibliography, and a five-page appendix. (This last feature is mainly a listing of sources for black powder arms, reloading supplies/components, and gunsmiths, plus two ranches specializing in buffalo [bison] hunts.) The author also states he does know the difference between buffalo (a misnomer)and bison. But in the glory days of the late 1800s, they were erroneously called buffalo. Bison Bill doesn't have the same ring as Buffalo Bill.
This volume is well illustrated with black and white photographs, many of them taken by the author's wife, Yvonne. (Some of the vintage photos are from the Panhandle-Plains Historical Museum of Canyon, TX.) The quality of the modern illustrations is excellent, especially those close-up shots of the various cartridges and various rifle actions. Some of the vintage photos are a bit fuzzy, but 150 years ago digital photographs didn't exist and time wasn't always kind to the chemicals (silver nitrate?)- used in the developing and printing process.
Part II, Basic Reloading for Buffalo Rifles, is the meat section for those shooters owning a rifle of this type they want to shoot . It is not a reloading manual, but think of it as a source of suggestions from a knowledgeable shooter for starters. Eleven cartridges, from the .40-70 Bottleneck to the 2½-inch .50-90 are covered, which may not cover every black powder cartridge used to kill a bison, but it definitely covers the most popular calibers.
The .50-70 Government cartridge saw lots of use on the big curlies and following some discussion of the cartridge, the author provides details on the loads he uses. Featured are the die sets, bullet moulds, brass, powder brand and charge—70 grains of FFg of course of different brands, Goex, Wano, Elephant, etc. Other data includes velocity in feet/second for each load and the group size for five shots at 100 yards. You can't ask for much more.
If you enjoy shooting big bore black power rifles, and buffalo rifles in particular, this is the book you need on your reference shelf. It even covers modern hunts with black powder arms, along with a discussion of the long debated 1874 Billy Dixon shot at Adobe Walls.