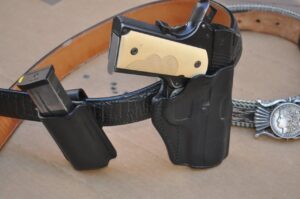 By John Markwell | Contributing Editor
I seldom carry a handgun smaller than a CCO 1911 pistol for personal defense.
Reliability issues with compact and subcompact semi-auto weapons has been inconsistent over the years and our confidence in those small blasters is relatively low. However, recent developments in weapons for the CCW market have remedied many of these reliability problems and many folks carry any number of the new generation of compact pistols with complete confidence. And, there are still a lot of folks who tote small double action revolvers on a daily basis. Galco's Stinger holster is just the ticket for carrying these pint-sized handguns be they a Chief's Special, a compact Mossberg MC2sc or a Glock 48.
I purchased a Springfield EMP on a whim at a gun show several years ago. I'd been reading about the new compact little blaster and the price seemed right, so we bought the little gun. It is the first and only short slide 1911 I have in my stable. Come to find out, it was a first-year production gun and it didn't take long to figure out why it was for sale at a good price. The good news is that after a trip to the factory for a new slide and total rebuild the little gun has perked right along for quite a few years now.
I don't carry the little gun often but do on occasion. Mostly It has proven great fun for shooting BUG matches. It is accurate and, now, 100% reliable. We often thought it would be a great "out on the town gun." But, what to carry it in was a continuing problem.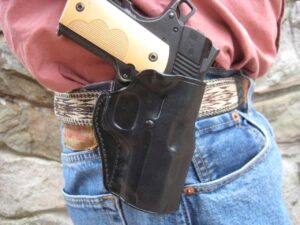 Recently I obtained a sample of Galco's Stinger holster for this, the smallest of my 1911 pistols, the Springfield Armory 9mm EMP. I wanted an outfit to carry the EMP in situations where a full-sized gun was a bit much to conceal or to slightly dressier affairs presenting a lower profile; maybe even to a barbecue, but only with the right belt. The Stinger is made from a single layer of premium steerhide and is available in any color one wants as long as it's black. It's a simple open top pouch design with a slight (about 5-degrees) forward cant and attaches to any 1.5- inch belt via a simple but ample belt loop. Molded to the individual firearm, the Stinger's leather is very firm and the holster stays open when empty. To reduce the bulk of the rig there is no welt in the single seam and there is no reinforcing band at the top of the pouch.
There is more than adequate clearance at the root of the trigger guard allowing for a very secure firing grip to be obtained upon presentation of the pistol. I dislike holsters which don't have adequate clearance for the middle finger and the Stinger has plenty. Boned to the EMP perfectly, the Stinger provides great retention but the holster was not overly tight and did not require the plastic bag break in, like some holsters. Should the holster loosen up to the point that retention is a problem (not likely) there is room by the stitching below the trigger guard for the addition of a Chicago screw to apply a bit of tension.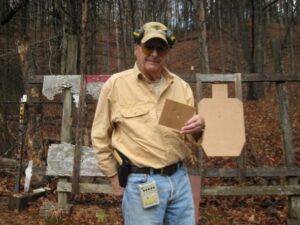 Out and about for a few days, the Stinger was comfortable with the slight cant keeping the gun butt from poking into the truck seat and tucking the EMP nicely under the ribs on my right side. I paired the Stinger with two different belts; a 1.5-inch Galco Exotic Holster Belt in Black Shark and our "dress belt" of braided horse hair with silver dollar buckle that's just right for any special occasion. Both fit the Stinger's belt slot well and provided adequate support for the compact EMP and a spare magazine in one of Galco's Quick Magazine Carriers. The Quick mag carrier attaches to the belt with a plastic belt clip that is easily attached or removed.
I shot some drills on the range with EMP being drawn multiple times from the Stinger. The EMP pistol has a Yost gold line front sight that is pretty tall, even after being cut down to zero the pistol. The Stinger's molded sight channel provides plenty of front sight clearence obviating the dreaded leather fuzz ball so common with some holster/front sight combinations. The Stinger "slicked up" a bit with use and my presentations became smoother as the range session wore on. I have some of Galco's DRAW-EZ Holster Lubricant and will give the stinger a dose of it when I can find it. (Found it, and it slicks the holster up nicely; It's available in Galco's Holster Care Kit.)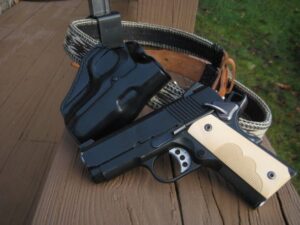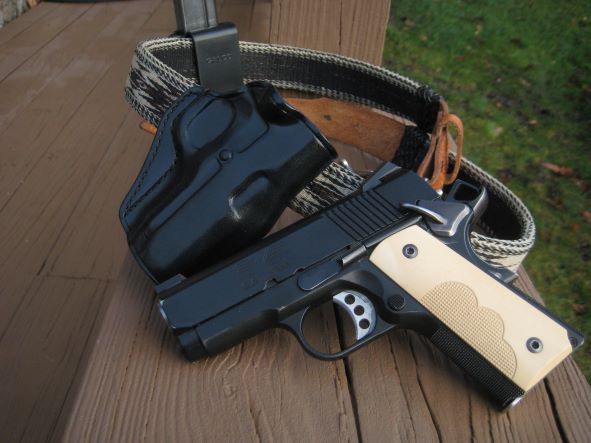 There's not a lot to say about a simple but affective holster. The Stinger is made for compact autos and double action revolvers and provides a much lower profile than many rigs out there. For those looking for a high quality but economical holster for their compact carry gun the Stinger from Galco Gunleather is a low bulk, light weight, and low profile OWB option.
Simple in its' design and elegance, the Stinger (along with the Quick mag carrier) makes for a more than suitable outfit for the fanciest of outings. Even though it will probably be concealed, the Stinger can contribute to your inner James Bond fantasies when out on the town while comfortably and securely sheathing your handgun with just a touch of class. The Stinger and the quick Mag pouch have a MSRP of $72 each.
Galco Gunleather
2019 West Quail Ave.
Phoenix, AZ 85027
(800) 874-2526
www.galcogunleather.com