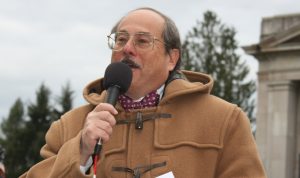 The Second Amendment Foundation has announced a huge new TV effort launching the first week of the new year to warn America of a coming attack on Second Amendment rights.
SAF founder and Executive Vice President Alan M. Gottlieb said the foundation's message will be broadcast 220 times during the first week on more than 20 cable television networks.
"The well-financed gun prohibition movement is poised to strike in an effort to make up for lost time due to Joe Biden's failure to get the gun prohibition agenda through during his first year in office," Gottlieb said. "We're expecting an unprecedented assault on Second Amendment rights heading into the new year. Anti-gunners will grasp at straws to grab every headline they can, and make no mistake, they are determined to help Biden go after your rights in 2022.
"That's why we're kicking off the New Year with a record number of pro-gun rights TV spots in a single week," he added. "The threat to our Second Amendment rights cannot be over-stated. The billionaire-backed gun ban lobby is fearful of a gun rights ruling from the Supreme Court this summer, and a power flip at the mid-term elections, so they will be pushing Biden and their allies on Capitol Hill and in several states to get things done now, before they lose the political muscle to push their agenda."
SAF will broadcast its 60-second message on several networks including CNN, MSNBC, Fox News, Fox Business, Newsmax TV, One America News Network, Destination America, Bloomberg, BBC America, Discovery Channel, American Heroes Channel, SYFY (Science Fiction), TLC (The Learning Channel), TruTV, DirecTV, The Weather Channel, HLN, Dish TV, and CNBC. 
"There is no time to waste," Gottlieb cautioned. "We're going to hit the ground running in order to grab the high ground and block the momentum of an anti-rights movement determined to smash the right to keep and bear arms."
SAF is asking viewers to text "PROTECT 2A" to a special toll-free telephone number – (888) 762-0221 – to join the effort "because once you lose your rights," Gottlieb said, "you will never get them back."