Book Review by Larry S. Sterett | Contributing Editor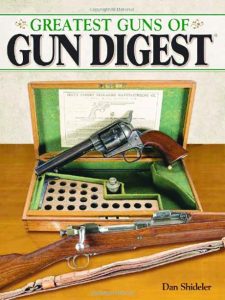 GREATEST GUNS OF GUN DIGEST, edited by Dan Shideler. Published by Gun Digest Books, 700 East State Street, Dept. TGM, Iola, WI 54990-0001. Price: $24.99, plus shipping. Also vailable through most bookstores and online book sellers.
One of the last books edited by the late Dan Shideler, and still available, this 224-page softbound volume features reports on more than three dozen great firearms. The firearms—handguns, rifles, shotguns, and military—were covered is various editions of the GUN DIGEST over the
Each of the articles is complete, just as it originally appeared, with photographs, sketches, tables, etc. All illustrations are black and white. A few may appear fuzzy, and lack details, due to being photographed from the original articles. However, this is not a great distraction.
There are 16 articles on handguns, ranging from America's First Revolver to The CZ-75 and its Early Clones. All are worthy of reading, again, and having known many of the authors made it even more enjoyable. Other readers may not agree with all the choices, but the selections made, whether the Luger, Ruger Redhawk, M1911, Colt M1873, CZ-75, Remington XP-100, S & W Model 29 and M52, or Glock, were and are great handguns.
The baker's dozen rifle articles range from Collecting Old Winchesters to Those Plastic Remingtons, and include reports on such gems as the .460 Weatherby Magnum, Ruger's 10/22 and Model 77, Winchester's Model 70 and 94, Browning's T-Bolt, and others. All the articles make for interesting and informative reading, but Donald Simmons' report on the Remington's nylon rimfire rifle line brought back memories of yesteryear. However, the Savage Model 99 isn't mentioned.
There are only five articles on shotguns, from Battle of the Automatics to The Collectible Winchester Model 42. The other three: The Remington Model 10, The Darne Gun, and Ithaca's Mag 10 are excellent choices, and all are unique (The Model 10 was the first of the streamline pump guns and a great shotgun, the Darne has an unusual locking system, and the Mag 10 was the first successful autoloading 10 gauge shotgun.), but there are other great shotguns., but possibly no great GUN DIGEST reports on them. A few which come to mind are the Winchester Models 12 and 50, Browning's Auto-5, Remington's Models 11, 32, 870, and 1100, and Marlin' Model 90. (Maybe there will be a second volume of such guns.)
The fourth section is devoted to five military arms, and it would be difficult to argue the choices—Thompson, M1911, Springfield M1903, the M16A2 and the Mausers. More AK-47 and variants may be in existence than the five covered combined, and it is a useable/serviceable arm, so whether it rates great depends on definition.
This is one enjoyable book to read. The articles are relatively brief, well written, and thorough. If you missed the original articles in the 1956, 1966, 1977, etc. GUN DIGEST, this is a chance to read some great articles on great guns. It doesn't get much better. This gem is worthy of space on any gun owner's bookshelf.