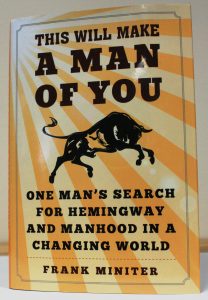 This Will Make a Man of You – One Man's Search for Hemingway and Manhood in a Changing World, by Frank Miniter. Hardcover, 175 pages. Skyhorse Publishing, New York, NY.
Written with the style and attention to detail reminiscent of the late Ernest Hemingway, best-selling author and accomplished outdoorsman Frank Miniter's "This Will Make a Man of You – One Man's Search for Hemingway and Manhood in a Changing World" is a treat.
Instead of offering a literary infomercial about following in the footsteps of "Papa," he takes the reader along for a ride, traveling to, and through, the places Hemingway brought to life vividly in his classic The Sun Also Rises. But this is no mere tour guide. It's a personal quest to define genuine manhood in an era and environment when the very term is disparaged by those who seem far less interested in nurturing manhood than in neutering it.
Miniter is the "real deal." He's been all over the world, pursuing adventure wherever it may be found. He takes us along from Paris to Pamplona, in the footsteps of Hemingway and his Sun Also Rises protagonist Jake Barnes. We immediately find ourselves in Hemingway's old haunt, a café in Paris where "Hemingway's ghost seemed to be there among the white-linen tables and waiters in black bow ties."
We meet Juan Macho, the "jolly little Cuban" who is Miniter's "guide to surviving the encierro (the running of the bulls)." And we see with our mind's eye as the events of Miniter's search unfold with every word.
Anyone opening this book with the expectation of finding some grand revelation about manhood by the end of the first chapter is going to be greatly disappointed, but if they're interested at all in the subject, that disappointment will swiftly give way to curiosity about what happens on the next page.
Miniter is the former senior editor of Outdoor Life and former executive editor of The American Hunter. He's not above calling out some parts of what has become the Hemingway myth, but in the end he has focused not on what Hemingway may or may not have done in his own life, but on how he portrayed through his writing what makes a man.
"This Will Make a Man of You" isn't a recipe book, but a marvelous introspective about a personal journey. It's the sort of thing for which Hemingway became famous.
If there is any "grand revelation," it would be that we become men not by trying to live some imitation of Hemingway, but by simply living, sometimes on the edge, while adhering to a code of conduct that is both honorable and unflinching.
To that end, Miniter has added an appendix featuring Codes of Honor, from the Boy Scouts to Bushido. That, in itself, is worthy of a read.
All in all, "This Will Make a Man of You" is an entertaining, insightful and, by no small degree, educational examination of a subject that is almost taboo among the politically correct set. In the end, you realize that they don't count, because they don't define what a man is.
Men define themselves by drinking from the cup of life and savoring every drop. — Dave Workman