Review by Larry S. Sterett | Contributing Editor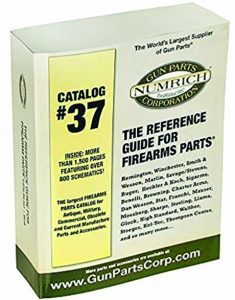 NUMRICH GUN PARTS CORPORATION CATALOG #37, ©2015. Published by the Numrich Corporation, Dept. TGM, 226 Williams Lane, Kingston, NY 12401. Price: $25.95, plus postage. Phone 866-686-7424 to order. Also available from Amazon.com.
This 1584-page softbound volume measures nearly 2¾ inches thick and tips the scales at 5 pounds 4½ ounces. In addition to having parts available for more than one hundred different firms and their various models, it has a good number of accessories also, and more. Although the first parts listed are for the M1911 and M1911A1, it immediately follows with Action Arms and ends over a thousand pages later with parts for various Winchester models. Between A and W a browser will find parts listed for the Bren gun, Egyptian Hakim, Federal Laboratories, Hopkins & Allen, Ljungman, MAS, Noble, RG, Suomi, and Webley & Scott. Not every part is available for every model of handgun, rifle or shotgun produced by the various firms, and the majority of the parts will be in good used condition. After all, most of the models have been out of production for years, possibly decades.
(The Kessler Model 50 Levermatic shotgun ceased production in the 1950, and many of the parts for this model are in new condition.)
Illustrations are abundant in this tome. They range from more than 800 schematic drawings to photographs and sketches of various arms and parts/accessories. The first schematic (exploded drawing or photograph) is of the M1911 pistol and the final one is of the Winchester Super X3 shotgun. Want to know what a Sten gun looks like inside? Check out page 1240. The break-down of the .310 Martini Cadet receiver is on page 630, and the Ithaca Model 66 Supersingle shotgun is on page 468.
As might be expected some sections are longer than others. More than three dozen pages are devoted to the various Mauser rifles and pistols, from the 1893 Turkish rifle to the Yugoslavian Model 48. Included among the various models are accessories such as muzzle covers, stripper clips, front sight covers, blank firing devices, and bayonets. (The comments on accessories also apply to the products of many of the firms, such as FN, Remington, Ruger, Savage/Stevens, and the various US M1 carbines.)
Following the Winchester section are nearly one hundred pages of miscellaneous items and information, including various barrels, choke devices, books and manuals, gas masks, dummy grenades, handgun grips, gun cases, magazines and stripper clips, various military surplus gear, muzzle-loading items, sights, stocks, and more. Need a bipod for a CETME rifle? Numrich has it. How about a stock for a Chinese Arrow BB gun? Numrich has this also.
Two important sections at the very end of this catalog are the "Store Brand" to Manufacturer Cross Reference, and the 13-page index. The "Store Brand" material goes from Alden's to Widgeon, and lists the store model followed by the original manufacturer and original model. (In the pre-1968 era Aldens, Western Auto, Sears Roebuck, J.C. Penny, Coast to Coast, Cotter & Co., Montgomery Ward, and a few others with mail order departments did a huge business via their catalogs. Many of the major manufacturers produced special versions of some of their most popular models for these chain stores. A few still do, but to a lesser degree. Aldens is gone, as is C.I.L., Montgomery Ward, and most, if not all Western Auto stores and existing J.C. Penny stores seem to have dropped their firearms lines.
This is a reference volume for the gunsmith, gun tinkering fan, any gunshop wanting to provide their customers with a possible source of parts for their or granddad's old shotgun or rifle. Parts for every firearm ever manufactured are NOT available, but this firm has been in business for three score years or so, and has parts for more arms than you can shake a stick at, as the saying states.