Review by Joseph P. Tartaro | Executive Editor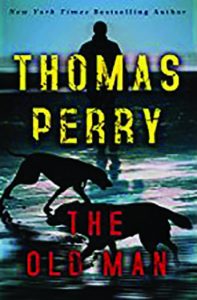 THE OLD MAN, by Thomas Perry. ©2017. A novel published by Mysterious Press, New York, NY. List price $26. $17 hard cover print edition on line, and in various Kindle and MP3 recorded formats, under $20.
Thomas Perry is a born story teller who has crafted some 20 action novels over the years, all of which involve interesting characters and, to one degree or another, guns-—usually in the hands of people who know how to use them. That's not so surprising because as a younger military man Perry served as a unit armorer.
The Old Man in this latest novel, ideal for summer reading, is to all appearances a harmless retiree living quietly in small Vermont town with two big dogs and a grown daughter he keeps at a distance but in touch with by phone. But most sixty-year-old widowers don't have multiple drivers' licenses under different names, as well as matching credit cards, passports, and savings stockpiled in banks across the country, plus a bugout kit with two Beretta Nanos stashed in the spare bedroom closet.
Many years before he aged, he was an Army intelligence officer, who was sent to Libya with $20 million to covertly assist a rebel faction trying to overthrow Momar Kaddafi.
When the plan turned sour because the payoff Libyan takes the money to feather his private nest, the American agent reacts according to his own ideas of right and wrong, triggering consequences he could never have anticipated.
He retakes the money and tries to return it to the US government, but the government is no longer interested in him or the money because of the changed political climate in the Middle East. Year later, when Libya sends several pairs of hit men to kill The Old Man, the governor decides that it would rather make nice with the bad guys from Tripoli, with the US helping the bad guys.
As The Old Man keeps moving around the country and changing identities, after besting different teams of foreign assassins, the government even sends a team of special agents to track him down in the wintry Sierra Nevada lodge where he's hiding out with a lady friend.
His evasion skills help them escape again, and he moves to Canada.
Even his attempt to give back the original $20 million doesn't placate the US government's interest in him and he moves again, under yet another assumed name, to Canada where he puts a plan into motion that helps him solve all his problems at their source.
Needless to say, The Old Man takes his time and manages to apply all of his survival skills to reach a satisfying final conclusion. You'll probably like this wily old man as he manages to outthink and outmaneuver the people who are determined to kill him. You'll probably also like his sense of justice.
It's a great and suspenseful thriller with a very likable hero who beats the US intelligence system and his foreign adversaries in spite of everything they throw at him. It would make a great movie. But, then, Hollywood would probably spoil it by casting one of its anti-gun stars to play The Old Man.