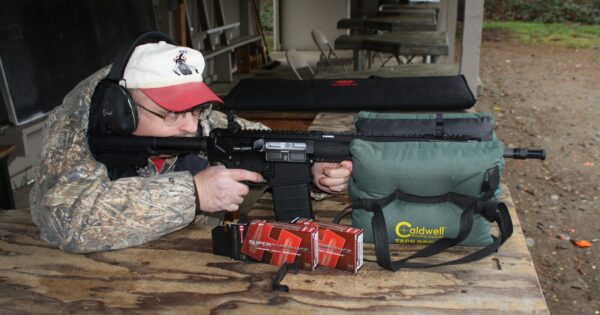 By Dave Workman
Editor-in-Chief
Illinois Attorney General Kwame Raoul has appealed to the Fifth District State Appeals Court to reverse a temporary restraining order placed on enactment of the "Protect Illinois Communities Act" by Effingham County Judge Joshua Morrison.
The new law, signed by Democrat Gov. J.B. Pritzker earlier this month, is also being challenged in federal court by the Second Amendment Foundation (SAF) and Illinois State Rifle Association (ISRA).
According to Fox News, Raoul filed his motion Monday. More than 70 county sheriffs have publicly declared they will not enforce the law, insisting it is unconstitutional. Gun rights organizations are also battling the new law on constitutional grounds.
The legislation bans the future sale and manufacture of so-called "assault weapons" and requires current owners of such firearms to register them with the Illinois State Police in order to legally keep them. The law also places a 10-round limit on rifle magazine capacity and a 15-round limit on magazines for pistols. Additionally, it bans .50-caliber firearms.
The state-level lawsuit was filed by four firearms retailers and several private citizens. According to Fox News, Judge Morrison determined the plaintiffs are "being immediately and irreparably harmed each day in which their fundamental right to bear arms is being denied."
When the sheriffs began what many see as an insurrection, Gov. Pritzker reportedly became furious. He appeared to threaten the lawmen and women with job loss, although sheriffs cannot be fired because they are elected officials.
Judge Morrison also reportedly was influenced by last summer's U.S. Supreme Court ruling in the case of New York Rifle & Pistol Association v. Bruen, which struck down New York State's century-old concealed carry statute and set a new standard for deciding Second Amendment cases. States have been bound by the Second Amendment since it was incorporated to the states via the 14th Amendment in the Supreme Court's McDonald ruling of June 2010. That case also involved SAF and ISRA.
Illinois isn't the only state where new gun control laws are being tied up in court challenges. New York, Oregon and New Jersey statutes are also under fire as gun rights groups, including SAF and the Firearms Policy Coalition, have filed federal lawsuits on constitutional grounds.
The Bruen ruling of 2022 has significantly altered the legal playing field by disallowing federal courts from balancing the historical intent of the Second Amendment with current community standards, generically referred to as "means-end scrutiny."