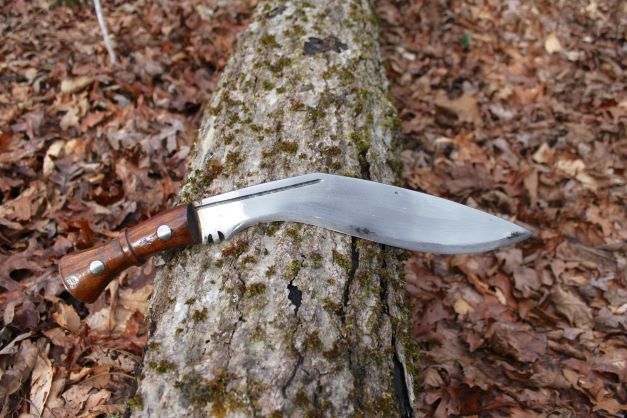 By Jim Dickson | Contributing Writer
The big knife has been one of the most useful tools in the wilderness throughout the world yet sadly, modern Americans make little use of it.
It was not always so as the long rifleman's knife and the Bowie knife were indispensable tools for the frontiersman and were eagerly adopted by Native Americans. Throughout the world you see natives who consider the big knife the most necessary tool for the wilderness. In Central and South America the machete is the all-purpose cutting instrument. In the Philippines you find the splendidly balanced bolo knife and in Nepal the Gurkhas are famous for their kukri. All of these are wood cutters that double for all other cutting chores for their users. All of them should be kept shaving sharp and they should be well oiled just like your firearms. Neglect this and they will not perform well for you.
Unfortunately, most Americans have not mastered the use of anything bigger than a pocket knife blade so small knives predominate. They are missing out on all the things that a bigger blade could do for them.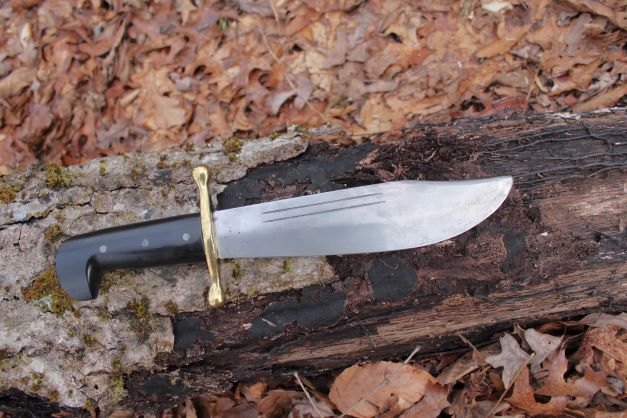 It's not just hacking your way through seemingly impenetrable brush it's also clearing a field of fire before your hunting blind or stand. Once you have a good position you still have to be able to see the game and you don't want any little growth deflecting your bullet as it can all so easily do. Anything that your bullet can strike on its way to the game needs to be removed. And how about building that blind? You need to cut undergrowth to get materials to hide yourself. This is no place for a pocket knife size blade.
Need to build a snow shelter? A machete makes a good snow knife to cut the blocks for an igloo. I always kept an Army 18-inch blade machete on my backpack in Alaska.
When was the last time you cut up a moose? A big blade comes in real handy for that. You don't see butchers using small knives for a reason.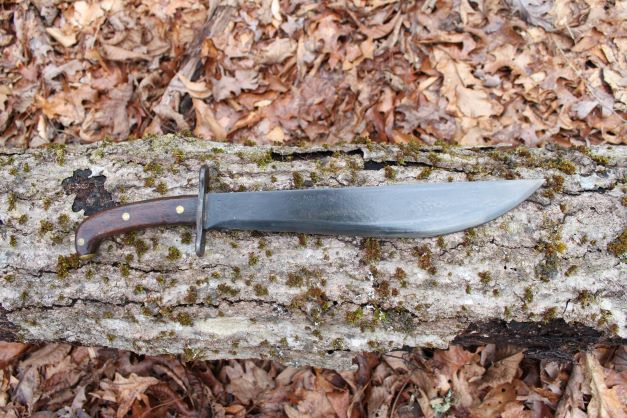 Skinning? I skin by prying the hide off primarily with the fingers and only using the knife when I hit a stubborn spot. Any blade works for me.
Fine caping work? That's when the pen knife blade on an old fashioned Barlow pocket knife works best
but you can grip the big blades by the blade near the point if you find yourself having to use them for this delicate work for it definitely can and has been done this way.
Camp fires require wood and big knives can provide all you need. This is part of their job description since we first made metal knives. While a 4-inch blade is struggling to whittle through a small branch the big blade is lopping off big branches with one stroke. If you plan on cutting enough wood to have a camp fire you had better either have a big enough blade to cut it or be packing a full size axe.
Shelter building can come up as a sudden emergency if the weather takes an unexpected turn for the worse. The lean-to, and more elaborate shelters, can be readily fashioned by cutting materials with big blades. At the old Army Jungle Warfare Training Center in Panama they taught you to make elaborate shelters raised above the jungle floor using the machete. A lot of people have died from hypothermia in this situation without shelter. Trying to build one in a hurry with a 4-inch blade is for folks with a death wish.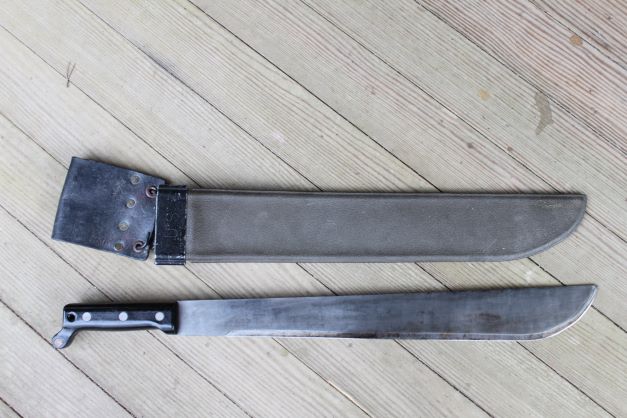 Defense against man or beast is a prime function of the big blade and the bigger the better here. All the big knives traditionally used worldwide have a splendid record here. Knife designs that can't provide victory for their wielders died with their users. In the days when America was a wild frontier, people living in what was then the wilderness sometimes had to finish animals with their Bowie knives as the single shot muzzleloader could not always put them down for keeps.
We still have bears and wolves but vicious dogs, both wild and supposedly tame, and unsavory characters who will jump a man when he hasn't got his rifle in his hands still abound in all states.
These are just some of the instances where a small knife pales by comparison to the big knife. Now let's look at some common examples of big knives.
The Bowie knife is the iconic American knife. It comes in a variety of forms for back in its heyday any big knife was called a Bowie knife. For our purposes we will only look at two larger examples with blades measuring 10 and 13 inches.
Years ago someone asked the Collins machete company to make a Bowie knife. The Collins Bowie was almost 10 inches in blade length with the blade swelling broad towards the point for chopping. It had a double guard and a neb on the handle for a secure grip. This knife proved so popular that it was copied by Case and Western knife companies. Large numbers were used in WWII and many men wanted it instead of the smaller 7-inch knives that were standard issue. This is also the finest big game skinning and butcher knife I have found.
Among the custom knives made today the Randall Model 12 Raymond Thorp 13-inch Bowie knife stands out as the most versatile and I highly recommend it. The extra blade length can come in handy. It is a fine looking knife as can be seen in the photo.

The machete is the "do everything" tool of South America and the natives do everything quite well with it. I prefer the Army issue 18-inch blade with a G.I. scabbard as the leather ones absorb water and the canvas ones are usually too flimsy. An exception is the USN canvas scabbard for the 26-inch Collins machete.
Since the plastic G.I. scabbards have only the hooks for an Army pistol belt I folded a piece of leather over and added grommets so I could mount it on a regular belt when I wanted to. The machete will bite just as deep into wood as a full size axe but its thin blade cannot twist to bust the chips out like an axe. You have to chop them out without twisting. A machete should be gripped firmly and just before contact the wrist should be snapped down for extra speed. Speed and the thin blade combine to give the machete its great cutting power. For cutting briars and light brush it is the best. It also makes a great slicing knife when cutting up big game. One fault I find with the Army issue machete is the edge is not ground out to the point. I had to grind it in myself on every one I ever had. You need that edge out to the point at times.
The Philippine bolo knife is a shorter heavier blade and a great chopper. I have seen Philippinos hold a coconut in the palm of one hand and deftly split it with a bolo knife held in the other hand. I don't know; looks like a great way to lose a hand to me. Still, I regard the U.S. Army M1909 bolo knife to be the finest balanced knife ever made. They have a very strange, blunt, one sided grind. I reground one to a convex grind and if I had to take just one edged tool into the wilderness this would be it.
When Alexander the Great invaded the Indian subcontinent he carried a kopis as did many of his men. The blade shape of this short sword took and has come down to us as the Gurkha kukri. It is the traditional knife of the famed Gurkha warriors and their fame has rubbed off on it. The Gurkhas and many others on the subcontinent use this as a do-everything wood cutter knife. It is important to remember to rock the curved blade out of its sheath lest it cut its way out of the scabbard. This is a well proven compact design.
When using a knife do like the butchers do and constantly touch up the edge, never letting it get really dull. The field is a bad place to have to settle down and do serious knife sharpening. Forget all the big talk of skinning multiple deer without sharpening. Don't let it get dull. Keep touching up the edge as soon as it quits cutting as good as it did at the start and you will save yourself a lot of grief.
 While the small and medium size knives have their place just remember that the big knife can also do the work of the small knife but the small knife can't do the work of the big knife.