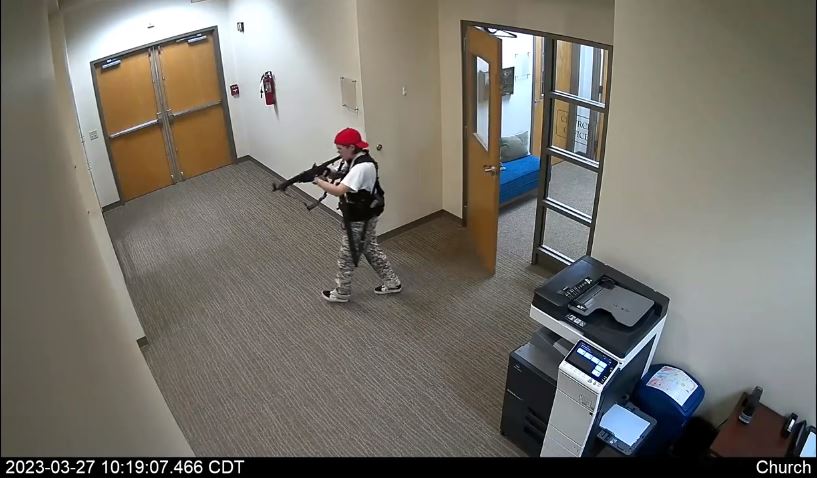 By Dave Workman
Editor-in-Chief
UPDATED: While investigators in Nashville are still trying to establish a motive for the horrific shooting Monday at the Covenant School that claimed the lives of three children and three adults, many media outlets are downplaying or simply not reporting the shooter's transgender identity.
The killer has been identified as Audrey Elizabeth Hale, 28, who at one time was reportedly a student at the private Christian school. According to CNN, she sent an Instagram message prior to the shooting, announcing she would die yesterday and it would be on the news.
—————————-
Nashville Police have released bodycam footage of the police response and takedown of the shooter Monday.
—————————-
"One day this will make more sense," Hale wrote, CNN said. "I've left behind more than enough evidence behind. But something bad is about to happen."
She reportedly left a "manifesto," but the contents have not been released.
Hale was killed by two responding Nashville Police officers on the second floor of the school building. Her choice of firearms included:
A KelTec SUB2000 semiautomatic rifle. This model folds for storage, accepts pistol magazines, has a 16.25-inch barrel, and overall length of 30.5 inches.
A 9mm Smith & Wesson M&P Shield 9 EZ, a pistol with an internal hammer, single-stack 8-round magazine, thumb and grip safeties, 3.68-inch stainless steel barrel and polymer grip frame.
A Lead Star Arms "Grunt" rifle, reportedly chambered for the .300 Blackout cartridge. An AR-type clone, it's a semi-auto which, according to an image published by Nashville police in a Twitter message, was fitted with a pistol brace.
NBC News is reporting that Hale was killed 14 minutes after entering the school. She was, according to The Daily Beast—quoting an anonymous source—autistic but "high-functioning." She apparently only recently announced she was transgender, the source said.
Hale's victims were identified as Evelyn Dieckhaus, William Kinney and Hallie Scruggs, all age 9, plus Katherine Koonce, 60, the head of the school, plus substitute teacher Cynthia Peak and school custodian Mike Hill, both 61.
Nashville Police Body Cam Footage Released; Public Praises Hero Cops
Police say the school was "targeted," and that Hale gained entry by shooting through two glass doors. Surveillance cameras caught her arrival, the entry and Hale's search through the school hallways, rifle held at ready. Nashville posted security camera video on their Facebook page.
NBC News also reported a search of Hale's home turned up ammunition and two shotguns, one described as "sawed-off."
As reported by Ammoland News, President Joe Biden quickly used the tragedy to repeat his demand for a ban on so-called "assault weapons."
Others in the gun prohibition movement are also calling for more gun control, despite the fact that Hale reportedly bought at least two of the guns legally, which would have required background checks. She apparently had no criminal background to prevent the purchases.
One NBC report quoted Kris Brown, president of Brady United Against Gun Violence, who reportedly said one solution to such shootings is the "Brady background check system." Also, Brown mentioned "extreme risk protection" laws, which do not appear to have been part of Hale's situation.
"If you don't want this to happen anymore," Brown reportedly said, "vote, vote. Make sure that every time you vote you focus on which candidates actually stand for gun violence prevention or they stand with the gun industry. And if they stand with the gun industry what that means is that is profits over lives. And it's just that simple."
Hale reportedly had a map of the building including entry points, and it appears the attack had been well planned in advance.